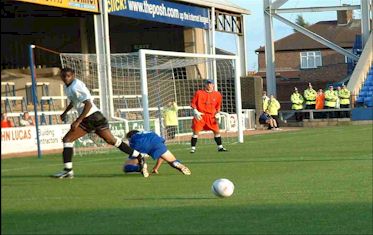 McLeod teases the Peterborough defence
(picture courtesy of S Eyre)
The Rams pre-season friendlies took them to Peterborough last night and again they failed to win.
A draw away from home was a great improvement to the loss and draw in previous outings to non-league opposition and with players to come into the side after injury and with the promise of at least another player before the season gets under way, things are looking up for the Rams.
Adam Boulder put the Rams in front against Peterborough after only ten minutes with a well taken headed goal. The Rams kept the lead until the interval.
Derby were caught cold early in the second half and a well placed chipped goal brought the scorers level.
Plenty of players used in this match and George Burley has his work cut out to find a well balanced side that can compete in the first division on this showing.