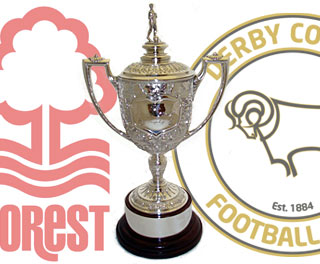 A very disappointing Derby County side were just not at the races last evening against A Nottingham Forest side that attacked the game (and one or two Rams players) like their lives depended on it.
Derby without left back Craig Forsyth (out for the season) looked lack-lustre and unable to cope with a Forest side near the foot of the table at start of play.
Sloppy passing allowed the home side to gain the advantage after just five minutes. Chris Martin losing the ball in the midfield area allowed Forest to move forward. A shot poorly cleared allowed Olivera two chances and his second beat Carson low to his right hand side.
Derby never recovered from the early set back and despite some good possession the final ball was again lacking and few chances occurred, and when they did players blazed high or wide.
Forest where physical and several clear fouls on the Derby players were either not seen, play waved on or remained unpunished by the referee. One clear example was a scything foul from behind on Johnny Russell. This left the winger in a heap on the floor from which many players would have received a straight red card.
On reflection for their high work rate and determination in front of a crowd of 25,114, I have to say Forest were the better side on the night and Derby were given what they deserved.
So one of the first key games of the Derby County season has been lost, there will be many more before the end of the season and Derby have to get things right for those matches. Forest may have won their Cup final, and Derby could have filled their stadium (for once) had they been given more tickets, but it is the Rams still in 5th place before the Saturday games and Forest are 15th.
As for the Forest spectator who attacked Bradley Johnson after the game. What an idiot! Why can't supporters just enjoy the game and rivalry, especially when you win?