Derby County went back to the top of the Championship table by ruining Colchester United boss Geraint Williams' return to his former club.
Colchester were swept aside by Derby's impressive attacking moves, and although they recovered briefly in the second half, the rout was completed with Chris Barker unluckily putting through his own goal.
But there was nothing fortunate about the three goals Derby scored in the opening 30 minutes to decide a match that had promised to be much tighter.
Colchester had beaten Derby at Layer Road earlier in the season but any chance of a repeat was quickly wiped out when David Jones volleyed in Steve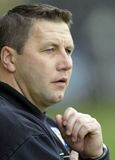 Unhappy return for 'George' Williams to Derby County
Howard's cross from the right following a powerful run by Giles Barnes.
The teenage midfielder was involved in the second after Jones had broken up a Colchester attack and Barnes delivered a superb cross which Arturo Lupoli smashed in from 12 yards.
Any hope Colchester had of getting back in the game disappeared in the 30th minute when Howard flicked the ball into the path of Barnes who went past Wayne Brown before sending a low shot through the legs of Dean Gerken from a tight angle.
But Colchester showed the spirit that has made them one of the Championship's surprise packages this season by pulling a goal back in the 56th minute.
Skipper Karl Duguid had gone close with a shot a minute earlier and when he found space on the right his cross cleared Tyrone Mears for Johnnie Jackson to head in from ten yards.

Arturo Lupoli hit one of several wonder goals for the Rams
Colchester briefly threatened to reduce to deficit still further but, in the 62nd minute, more trickery from Barnes forced John White to bring him down at Howard drove the penalty low into the bottom left-hand corner.
Colchester's misery was complete when Jones sent in a cross shot from the Derby left and the ball ricocheted off Barker and flew into the right-hand corner.
Derby coasted out the last 20 minutes and could have added further goals, although Colchester never gave up and Stephen Bywater was forced into a smart diving save to turn away a Duguid shot in stoppage time.