William Terrence Hennessey
Terry Hennessey was born in Llay on the 1st September 1942. His career with Derby County was brief but successful, being cruelly cut short by knee and Achilles injuries.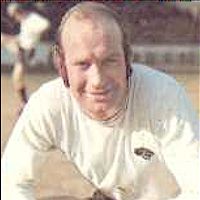 Terry Hennessey, a career shortened by injury
Terry now lives in the sunshine of Australia as he approaches his 60
th
birthday. Mind you with that baldhead standing out from the other players, he looked 60 by the time he was 27.
Hennessey was only 27 when he signed for the Rams in February 1970.
Terry was bought from our archrivals Nottingham Forest and was the first player bought by the club for £100,000. Originally bought by Brian Clough as a replacement for Dave Mackey in defence, Hennessey played the first season at the Baseball Ground in midfield.
As I have already said Terry was injury prone after his transfer to the Rams. He did however play 79 matches for Derby before the said injuries prompted him to retire from first class football in 1973.
As many players now do Hennessey went into management after he retired first of all taking up the managers job at Tamworth in 1974. In 1978 he moved to the USA and managed Tulsa Roughnecks. A move back to Britain the same year saw Terry take the job of manager at Shepshed Charterhouse, where he stayed until 1980.
He then moved back across the pond to the USA and again took up a job with Tulsa Roughnecks, this time assistant coach in November of 1980. He progressed to chief coach in 1981 until leaving for Vancouver whitecaps in 1983.
His final job was again in Europe as he managed Heidelberg for a year from 1987-88.
My own personal favourite game in which I saw Terry play was his testimonial match played for him on the night of 25th February 1974 against Spartak Moscow. I was an impressionable 12 year old at the time and can still remember the warm applause as Terry stepped onto the pitch and the glint of his bald head as he ran into the searchlight. Happy days!