Colin Boulton
---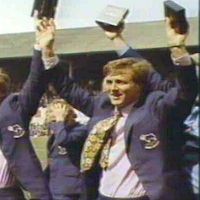 Colin Boulton with his Championship medal (nice tie!)

Born in Cheltenham on 12th September 1945. Solid, dependable, ever present are among the things that can be said about Colin Boulton. The ever-present part is very true, as Colin was the only player to take part in all 84-league games during the two Championship winning seasons.
His sparkling career began at lowly Charlton Kings then he took to the beat by playing for Gloucester Police. Colin was actually a Police Cadet in Cheltenham when he was noticed by Rams manager Tim Ward.
Boulton arrived at the Baseball Ground in August 1964. His course to the first team was not always a smooth one and it must have seemed to him that he was being overlooked as Brian Clough signed South African keeper Les Green in 1968.
It took another three seasons for Boulton to get his chance in the first team. The rest is history, as Colin never looked back starring in many league and Cup matches in Derby's most successful time in their history.
Every great team needs a trustworthy and consistent keeper and Colin was just that, keeping clean sheets in 23-league game during the Championship winning season of 1971-72 season.

Colin Boulton went on to make 344 first team appearances for Derby County before an unsuccessful move to America where he played for Tulsa Roughnecks and Los Angeles Aztecs between 1979 and 1980.
Colin's final team was back in England, where he played for Lincoln City. However in his fourth game he sustained an injury that was to end his playing career.