JOHN BOAG AND JOE LEIPER
---
Many Rams fans will have heard or read all the about the era and legend of Steve Bloomer. They may also have heard about some of his better-known teammates such as John and Archie Goodall and Jimmy Methven.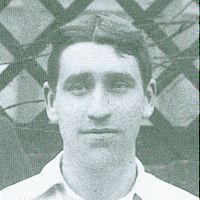 Joe Leiper Rams left back 1892-1900
It is unlikely they know much about two of Steve's other teammates and, unsung heroes of the club from the turn of the century John Boag and Joe Leiper. This season sees the hundredth year anniversary of the Rams third FA Cup final appearance in 1903. It seems therefore an opportune moment to recall the contributions of these two players. Some years later there was a further unlikely connection between these two heroes, which will be become apparent, later.
In 1892 a nineteen-year-old Scotsman, called Joe Leiper joined Derby County. Joe started with Gilmorehill Juveniles and then played for the now defunct Scottish Junior team Minerva, prior to his transfer to the Rams. Whilst with Minerva, Joe was capped for Scotland at Junior level in the 6-3 win against Ireland at Douglas Park, Hamilton on the 13th February 1892.
The use of nicknames by footballers and fans is not something exclusive to modern day players. Joe it appears was affectionately known in his Derby days as "Fossil" however the origin of this name is lost in the midst of time.
Joe was a solid defender in a very strong Derby team in the early 1890's and made his debut in a 6-1 defeat at home against Everton on the 5th November 1892. Joe also played in the first official game at the Baseball ground against Sunderland, following the clubs permanent transfer there in 1895.
Joe was in at the start of a very eventful period of Derby County Football Club. Arguably not until the memorable period of the early 1970's have Derby had as strong a team, however history can only record this period as one of glorious failure as despite the quality of player at the club, the record books only show Derby as often the bridesmaid never the bride. Joe made 26 appearances in season 1895/96 when the Rams finished runners up in the league to Aston Villa. That season saw the first appearance of Steve Bloomer's brother Philip, who was Joe's understudy. It turned out to be his only appearance as he tragically died of peritonitis in May 1896.
Joe played in two semi finals of the FA cup in 1896 and 1897 when the Rams lost firstly to Wolves and then to Everton. The following season another semi final appearance against Everton this time saw the Rams make the 1898 FA cup final for the first time.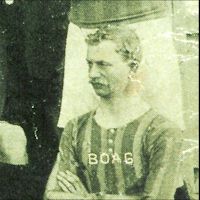 John Boag my Great Grandad
In May 1896 another Scotsman, from Glasgow, John Boag joined the Rams from East Stirlingshire FC. John had started his career with Gartmore Juveniles with whom he won a Juvenile league medal in 1893. He then moved to Cowlairs FC one the founder clubs of the Scottish League and from there to Ashfield Juniors. This was the same club from where Jimmy Stevenson and Sandy Maconnachie had earlier joined the Rams. After a brief period with both Ashfield and then East Stirlingshire, John like so many young Scottish footballing compatriots moved south to the more lucrative professional leagues in England and joined Derby County in May 1896 at the age of twenty one.
John Boag made his debut in the 3 –1 away win against Bolton on 6th March 1897. John and Joe played in the same team only twice in that first season together. The next season saw the two Scotsmen play in eleven league games together and more significantly three cup games. The Rams embarked on their run towards the final of the FA cup with wins against Aston Villa then Wolves and in the quarter final they were drawn against Liverpool. The first game was drawn 1-1 at home. John Boag had missed the first three games but came back into the side for the replay with Liverpool after Liverpool protested about the inclusion of Sandy Maconnachie in the Rams Line up. This was probably John Boag's finest game in a Derby shirt as he scored a hat trick in a fine 5-1 away win at Liverpool. Derby's other two goals were scored by Steve Bloomer. John played in the semi final against Everton, along with Joe who played in all the games in the 1898 cup run. John and Joe again played together in the final before a crowd of 62,017 on the 16th April at the Crystal Palace in the 3-1 defeat against local rivals Nottingham Forest. John's partner up front was Steve Bloomer who scored one of his finest goals with a header from a free kick delivered by "Fossil" Leiper.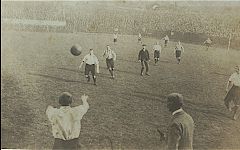 John Boag throws-in to Rams legend Steve Bloomer
At the turn of the century, there was a lot of competition for places in the forward line with John Boag competing in particular with Jimmy Stevenson and Hugh McQueen for the right to partner Steve Bloomer. The 1898/89 season saw Joe Leiper's Derby career start to decline as he took no part in the cup and made only three league appearances, having lost his place to Staley. John Boag however played in twenty-one league games and scored six goals. He also made a strange appearance against Bury, in the number five shirt rather than his customary number nine, but whether he was playing in a different position is unknown. That season also witnessed the score that still stands as Derby's record league win, when Sheffield Wednesday were trounced 9-0 on the 21st January 1899. John didn't get on the score sheet, but surely played some part in Steve Bloomer's six-goal haul.
For the second season Derby's cup prospects looked good when they won 6-0 away to Arsenal helped by braces from Boag and Bloomer. Further wins against Wolves and Southampton saw Derby reach another semi final. This time they played Stoke at Molineux and won 3-1 with a hat trick from Bloomer. On the 22nd April John Boag played in his second FA Cup final again at the Crystal Palace in front of a crowd of 73,833. Derby again lost, this time 4-1 but opened the scoring with a goal by John Boag who was up against the legendary centre half Ernest "Nudger" Needham and goalkeeper Bill "Fatty" Foulkes. Derby's chances declined in the second half when fellow Scotsman Johnny May was injured. May had arrived from Abercorn at the start of the 1898/99 season and proved to be a very influential player that season. May then went back to captain Rangers and to play four times for Scotland between 1906 and 1908. John Boag and John May were to strike up a lifelong friendship during their time at Derby.
The following season 1899/00 saw Derby finish sixth in the league but exit the F.A. Cup after a replay against Sunderland. John Boag played in twenty-six games but only scored four goals. Joe Leiper briefly resurrected his Derby career and made eleven appearances for the Rams."Fossil" made his final appearance in a 4-1 home win against Glossop on Boxing Day 1899. Interestingly Derby played three games in four days including Christmas day that season. Joe's record during the eight seasons he played for the Rams was 178 games and no goals. Joe played in three semi finals and one FA cup final and was part of the defensive rock with Jimmy Methven that attained league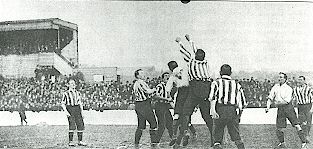 Rams action of yesteryear, including John Boag
placings of 2nd in 1895/96 and 3rd in 1896/97.
Season 1900/01 was a poor season for the Rams compared with the late 1890's as they finished 12th in the league and again fell at the first hurdle in the FA Cup away to Bolton.John Boag made twenty-two appearances and scored five goals. The following season saw an improvement in fortunes with 6th place in the league and an excellent FA cup run. Another semi final was reached this time against their opponents from their last Cup final appearance, Sheffield United. A new hero had appeared in the forward line for Derby in the shape of future England international Ben Warren who scored eight goals in seven games in that season's cup run. However despite his contribution the Rams lost 1-0 to Sheffield in a second semi final replay played at the City ground Nottingham. John Boag made twenty-five appearances and scored four times in 1901/02.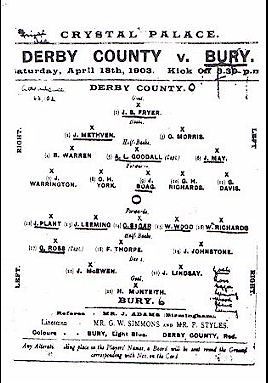 Season 1902/03 saw John Boag face a new direct rival for his centre forward position in yet another Scotsman Charlie York. Boag only played one game in the first half of the season not returning to the team until the first round of the FA Cup at home to Small Heath. Boag scored in the 2-1 win and was an ever present for the rest of the season. Another semi final was reached against Millwall at Villa Park and the Rams triumphed 3-0 with Boag scoring the all-important second goal. A third FA cup final in six seasons was reached, but as most Rams fans know it turned into a disaster. With Bloomer out injured and goalkeeper Jack Fryer playing whilst not fit, Derby were thumped 6-0 by Bury on the 18th April before 63,102 spectators. The result still stands as a FA cup final record score.
Much has been made of the supposed gypsy curse associated with the move to the Baseball ground and the impact on the Rams ability to win trophies that they should have. Less well known but fairly topical is that Derby occupied the supposed unlucky dressing room at the Crystal Palace for each final.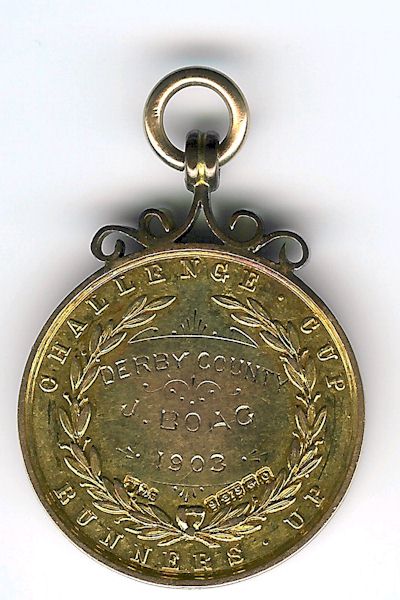 One of John Boag's FA Cup final Runners-up medals
For John Boag it was his third final and no winners medal, however John was one of only three players who played in all three finals the others being the aforementioned Fryer and fellow Scotsman and Derby legend Jimmy Methven, who went on to manage the Rams in 1906. John Boag played five more times for Derby in season 1903/04 with his last game being away to Blackburn on the 7th November 1903. John played 140 games for Derby and scored 37 goals. John Boag and Joe Leiper played together 27 times and John was Steve Bloomer's strike partner on 102 occasions.Whilst John's goals record doesn't compare with Steve's he clearly was an important supporting figure over the eight seasons they played together. Perhaps John Boag should be best remembered for his contribution towards these famous cup runs that resulted in the three finals and six semi finals over the eight seasons he was at the club.
So what became of Joe Leiper and John Boag and what is the later connection between them?
Joe Leiper left Derby County in 1899 and signed for Grimsby Town who were then a second division team. He later played for Chesterfield before returning to Scotland where he signed for Motherwell and captained them in season 1903. Joe's other sporting interest was cricket and he would turn out to play for the Isle of Bute from his home in Rothesay. From there he would travel to Lanarkshire for Motherwell games. Joe had five children twins Joe and Viera, Rod, Jack and Barbara who is now 94 and still going strong. Joe spent the remainder of his life in the Partick area of Glasgow looking after his various property interests and indulging in his other passion of watching West of Scotland Cricket Club.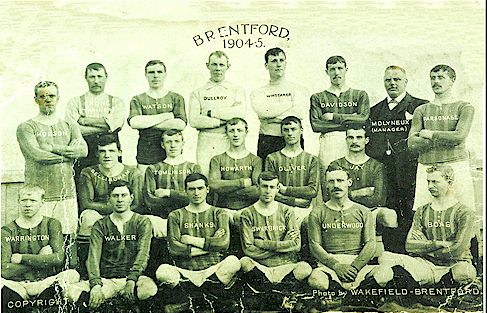 John Boag after joining Brentford in May 1904
John Boag left the Rams in May 1904 when he signed for Brentford. He made his debut on the 24th September, against Northampton but only played one more game before his career came to an end. John and his wife Isabella had three children, Agnes (who was born during his time at Derby when he lived at 65 Violet Street in the shadow of the Baseball ground), Jack and Molly who is in her nineties and still living in Clydebank. John Boag had saved wisely from his time as a professional footballer, although it is interesting to note from the birth certificate of his daughter Agnes, that his profession was described as a "machinist" and not a professional footballer. He returned to Scotland and invested his savings in firstly a fishmongers shop in Renfrew, then a laundry in Nitshill, Glasgow and finally a snooker hall in Clydebank, which he lived above. In his retirement, John Boag would often spend time reliving the old days with his friend and ex teammate Johnny May.



John relaxes. This is one of the few colour pictures of the Rams 3 time cup final player
John Boag died on the 7th February 1954 aged 79 years and is buried with his wife Isabella who had died some years previously, at Dalnottar Cemetery in Clydebank.
John Boag had kept his three runners up medals and left one apiece to his three children. He also left a rather interesting still life painting, which had been given to him during his time at Derby as a payment in lieu of a debt, however the origins of this painting remain shrouded in the midst of time unless any Derby residents can shed any light on it.
Were John and Joe friends as well as teammates? Nobody is sure but they certainly had similar backgrounds and curiously over fifty years later their names would be linked again.
In 1952 in a Glasgow Quantity Surveying office two young colleagues called Gordon Cumming and Ian MacPherson were discussing football when the conversation turned to the fact that Gordon's grandfather had played for Derby County at the turn of the century and had played in all three losing FA cup finals. To his amazement Ian claimed that his grandfather had also played for the Rams at that time and had played in one of the finals. Ian is Barbara Leiper's son and Gordon was Agnes Boag's second son. Ian and Gordon remained the best of friends for nearly fifty years until Gordon died in 1999.
I guess that is where I come into the picture. I am Alan Cumming, Gordon's second son. I have, since I can remember been fascinated by my grandmother's tales of my great grandfather John Boag who was a professional footballer. I have been a Derby County supporter based in Glasgow for the best part of thirty years and in 1994 married a Derbyshire girl Helen who had come to work in Scotland. Helen's family still live in Derby and are Rams supporters.
After my father died I inherited the 1898 runners up medal and my father's younger brother Hugh who lives in Canada has the 1903 runners up medal. Sadly the whereabouts of the 1899 medal from the game in which John Boag scored is unknown.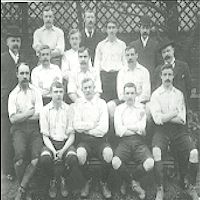 What has been my motivation for compiling this article? Firstly it is a thirst for more knowledge about John Boag's career and teammates plus any opportunity to obtain further information, memorabilia or copies of same. Secondly it is inspired by Peter Seddon's superb book about Steve Bloomer and his story, which brought to life for Rams fans the age in which Steve, John Boag and Joe Leiper lived and played football.
Finally it is the hope that Derby County might, in this hundredth anniversary season of the last of the three FA Cup finals runners up appearances, arrange some suitable occasion to mark the event. Perhaps it is an opportunity to invite descendants to a get together at the start of the 2003-cup run.
I hope this brief resume of two Derby stars of the past is of interest to who ever reads it and I would certainly like to hear from any other Derby fans or descendants who have any other connections or information from this era.
Alan Cumming
It is with sadness that we have just learnt of the sad death of Alan Cumming in 2005. He left two sons aged 6 and 9 (now 15 and 12) and the family has now decided to place on permanent loan the 1903 FA Cup runners up medal at Pride Park.
The two boys are rightly proud of their father and John Boag their Great great Grandfather and I would like to add my own thanks thanks to the family for the great help when researching John Boag.
I personally met Alan Cumming, and was honoured to accompany him to a 1903 FA Cup centenary celebration at Bury in 2003, where we were the representatives of Derby County football club and Alan was one of only two relatives from the 22 players who took part in the final (Bury couldn't find any).
RIP ALAN CUMMING