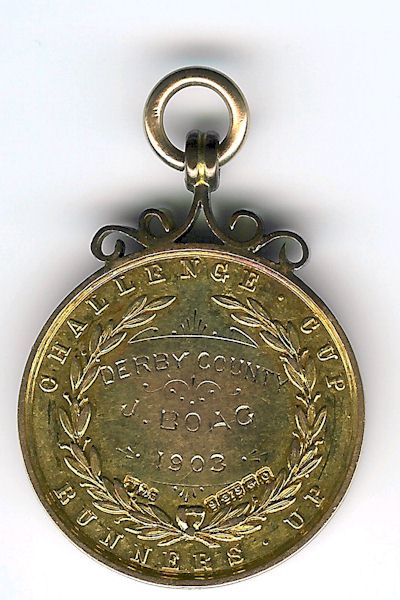 John Boag's 1903 FA Cup runners up medal
We are publishing a very special Rams Remembered this week. Can anyone out there remember the three Rams players that have played in three FA Cup finals for Derby County?
Well to be quite honest we can't remember the other two, but we have been reminded by one of the player's relatives of the other one.
Hugh Cummings is the Grandson of John Boag. He made contact with Derby County Mad and has been very kind and sent us photographs of BOTH john himself and of one of the three losers medals he received in his eight years playing for Derby County.
John was born in Glasgow, exactly when we don't know but possibly around the 1870's. His football career started at Cowlair. From there he went to Ashfield and then East Stirlingshire.
John joined Derby County in May 1896 and scored regularly for the Rams but Boag came to prominence in the 1897-98 season. It was the season that the Rams managed to get to its first FA Cup Final.
To get to the final Derby County had to beat Liverpool in the 3rd round. The Rams drew the first game at home at the Racecourse ground 1-1. In the replay Liverpool posted an objection to Rams player Alexander MacOnnachie. John Boag took his position at centre forward and the Scotsman duly scored a hatrick.
Unfortunately the first FA Cup final that Derby County played in was against local rivals Nottingham Forest in 1898 and was lost 3-1 at Crystal Palace.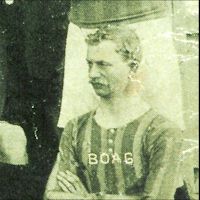 John Boag, one of only three Rams players to have played in three FA Cup finals for Derby County
Derby County and John Boag were back at Crystal Palace in the FA Cup final a year later in 1899 this time against Sheffield Wednesday.
The match started well for Derby County and it was John Boag himself who put the Rams 1-0 up in the match. Unfortunately this was the only piece of joy for the Rams fans as the Blades romped home by four goals to one. A crowd of around 60,000 saw or tried to see the match.
Derby County lined up like this…. Fryer, Staley, Methuon, May, Peterson, Cox, Allen, MacDonald, Boag, Bloomer, Arkesden
The Rams had a break from the glory of an FA Cup final for the next five years. Some people say it should have been longer as Derby County that day produced a piece of FA Cup history that still stands to this day. The score of Bury 6 Derby County 0 is the biggest winning margin in FA Cup final history.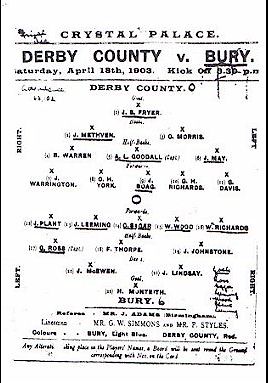 1903 FA Cup final programme...If you have one of these please let me know. It is rumoured to be worth £10,000. Look close to see John Boag
It must have been quite devastating for John Boag. As I said at the beginning there are only three players that played in all three games and have three FA Cup losers medals and unfortunately (or fortunately depending how you look at it) John was one of those players.
John played one more season for the Rams before finishing his career with Brentford who he signed for in May 1904.
Once again we thank Hugh Cumming for bringing John Boag and his career with Derby County to our attention. We hope that everyone will enjoy looking at the pictures of John Boag's 1903 FA Cup losers medal and the other pictures that have been kindly sent to us by Hugh.


Following this article we received new pictures and facts about John Boag from Hugh's nephew and John Boags Great Grandson, Alan Cumming. To take a look at these new findings which also include facts about another Rams player, Joe Leiper click on the link below
It has come to our attention that Alan Cumming has passed away in 2005. With this in mind we have published this article and the second part in Alan's memory.