Alan Hinton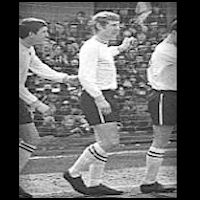 Alan Hinton one of the greatest crossers of a ball the game has ever seen
Alan Hinton was one of the greatest outside lefts this country has ever seen. In today's market he would fetch millions. His ability to send over pinpoint crosses from anywhere on the field and with either foot would have had Sir Alex Ferguson drooling if he where available today.
Nicknamed "Gladys" for his golden curls Hinton was born on 6th October 1942. His professional career started with Wolverhampton Wanderers as a junior, later signing professional form with the Wolves in 1959.
Alan moved on to Nottingham Forest in 1964. Brian Clough saw the potential in Hinton and brought him to the Baseball Ground in 1967 for £30,000.
Alan became famous in the British game by becoming the first player to play in white boots. He even endorsed a swivel action stud that was supposed to enable players to turn quicker. However after several twisted ankles many young lads abandoned their pleas for a pair of Hinton white boots.
Hinton left the Rams in 1976 and started a successful career in the United States and the fledgling North American Soccer League. The measure of his success can be see in the American passion for statistics, Hinton set a new record of 30 assists (yep, I hate that word as well) and not only that he beat the previous records held by no less that George Best and the great Pele.
The Alan Hinton of today now lives in America and works for TV company over there. His work does not stop their however as he is President and coach of Seattle Sounders soccer team.