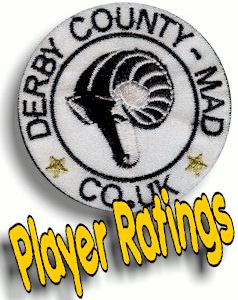 A key game for the Rams and their fight to stay in the Championship,but a cruel goal just two minutes from time meant Derby left the Riverside without any points.
We asked you the Derby County Mad readers to give your ratings for all the Rams players involved and here we have the results.
Well we had lower ratings for this session as you would expect for yest another defeat. However all the defensive players seemed to rate the highest with you, the Derby County Mad readers.
Mr consistancy John Brayford received an encouraging 4.47. Both Shaun Barker, still battling against injury, joined in the defensive upsurge with 4.60 and fellow central defender Daniel Ayala scored 4.43. The quartet, made up by Gareth Roberts all hit four or more out of ten, Roberts getting 4.08.
Midfield faired less well against Middlesbrough with Conor Doyle re-installed into the Rams starting eleven he scored a disappointing 3.83 out of ten starts from you, the Derby County Mad readers. Miles Addison also scored poorly with 3.59.
Duffer of this game according to you the readers was Stephen Pearson. His average score of 3.08, wasn't much down on his fellow midfielders but he takes this games award for the lowest score.
Top man in this game went to Rams goalkeeper Frank Fielding. The Loanee, who will miss the last eight games of the season scored a magnificent 6.63, an amaing score for a 2-1 loss...
The full list of rating scores for Rams players is as follows:
Derby County Mad player ratings v Middlesbrough

| | |
| --- | --- |
| Frank Fielding | 6.63 |
| John Brayford | 4.47 |
| Shaun Barker | 4.60 |
| Daniel Ayala | 4.43 |
| Gareth Roberts | 4.08 |
| Conor Doyle | 3.83 |
| Stephen Pearson | 3.08 |
| Paul Green | 4.21 |
| Miles Addison | 3.59 |
| Jamie Ward | 4.00 |
| Theo Robinson | 3.60 |
| Substitutes | |
| Ben Davies | 2.86 |
| Chris Porter | 2.87 |