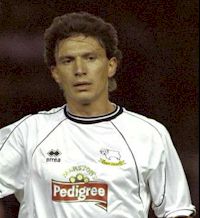 Eranio part 3 ?
Stefan Eranio is said to be back in the city of Derby. Several reports have said that Eranio has been in constant contact with his friend Fabrizio Ravanelli over the past week.
There have been Rumours that the two may join forces if as expected Ravanelli is made the New Rams boss after Saturday's crucial game against Ipswich.
Rams fans around the City would welcome the return of Eranio, for the third time in his career this time however the talented midfield player would have a mainly coaching role although his skill in midfield would be a welcome plus to a Rams midfield that has been sadly lacking this season.
Things seem to be happening at a pace now as Eranio was allegedly booked on a flight for the UK this Sunday evening but he was seen in the City this morning by a reliable source.