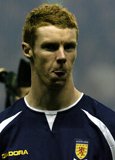 Stephen Pearson the Rams midfield target
Celtic Boss Gordon Strachan has put a hold yet again on the deal which could take midfielder Stephen Pearson to Derby County.
Strachan is hoping to build up the Celtic squad before releasing Pearson, even though a bid for the Scottish International has been accepted and it now just remains for personal terms and for strachan to release the player.
All of this is very frustrating for Rams manager Billy Davies as he is also trying to build up a squad for Derby and has hinted after Sunday's lack luster performance that he will be dropping players that do not give him 100% effort.