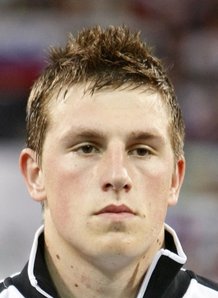 Chris Wood wantd by NIgel Clough next week when the loan window opens next week
Derby claim to have an agreement with West Brom to sign New Zealand international striker Chris Wood on loan.
The Rams were on the verge of signing the 18-year-old before the transfer deadline on Tuesday but injuries to forwards Roman Bednar and Ishmael Miller held up a deal for Wood, who was on the bench for Albion`s Premier League defeat at Liverpool last weekend.
Wood could make a move to Pride Park once the window for emergency loans opens next week - if West Brom's injuries have cleared up."We are looking to go straight back into the loan market when it opens again," said Derby manager Nigel Clough.
"We were very close to getting somebody in on loan. We had agreed the move and we will revisit that one. We will also chase up a few other inquiries once the window opens."
"We got quite a way down the road with West Brom and with Chris, and we hope that as soon as West Brom's injuries clear up we will be able to get him in."I think he fits the mould of the younger players we have. He is inexperienced but he has played international football. It is a pattern we are trying to follow of young, hungrier players."
Source: PA...
Source: PA