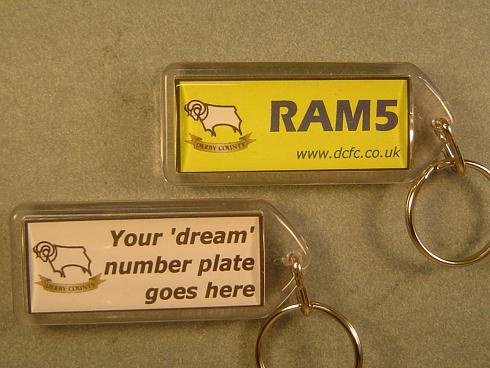 you could win one of these personalised keyrings with Derby County Mad and Personalkeyrings.co.uk
Ever fancied your own DCFC number plate? With the real thing going from between £200 and £1000 why not let the good folk of
Personalkeyrings.co.uk
create your very own personal mini key ring number plate.
You can choose from home or away colours and several different plates on the front and whatever you like on the rear up to 15 letters.
Officially recognised by Derby County football club you could be one of the first Rams supporters with their own personalised Rams Key ring.
We are giving away the chance to own one of these great gifts FREE of charge in our FREE to enter competition.
Derby County Mad in association with personalkeyrings.co.uk will be giving 20 super Rams key rings away over the next four weeks. Just take a look at the question which will be featured on the Derby County Mad homepage every Friday, give us your answer by clicking here and all correct answers will go into a draw to take place the following Friday.
First question, and the chance to win the first five keyrings, will be up on Derby County Mad on Friday 16th March 2007.
So grab yourselves one of the coolest Derby County products on the market for
FREE!.