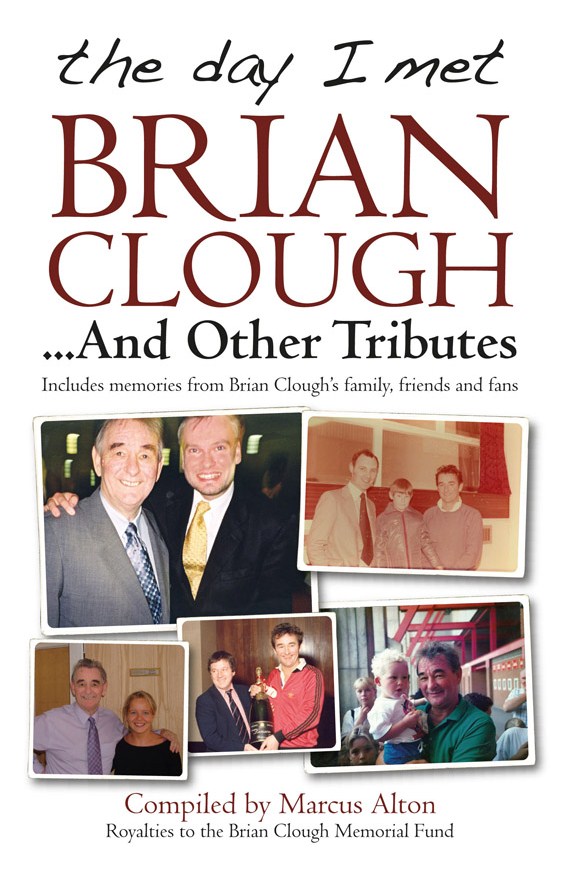 We have been privileged yet again to be asked to review the new publication from DB Publishing. This latest book is a tribute to the late great Brian Clough and has been compiled by Marcus Alton.
The book focuses on the great esteem that almost all people who have met Brian Clough hold the greatest England manager, never to be in. People from all walks of life have contributed to the compact paperback and they all have on thing in common, their love and respect for the legend that is, BRIAN CLOUGH.
Players who have played under Brian give their view on how he made the sides he managed tick. I have to say the book is very heavily bias toward our great East Midlands rival Nottingham Forest but I think even Derby County fans will forgive the references to the Reds in this delightful view into peoples meetings with Brian and the kind hearted man that people didn't see when he was on the TV.
Having personally met Brian I can vouch for the great sense of humour he had, even when I had the privilege of meeting him just months ahead of his death.
The book goes on to bring us anecdotes from football fans around the World from a York City fan to the Australian Nottingham Forest supporters club.
This book is a must have for those of us out there who loved Brian Clough and all the Royalties will be going to the Brian Clough memorial fund, so what better time to bag yourself a great little read. There are 189 pages of pure enjoyment as the tributes and stories of meeting Brian Clough come thick and fast. An ieal Christmas stocking filler for just £9.99, available from all good book stores, or click here to buy on-line.
If you fancy entering our competition we have copy of the book to give away absolutely FREE!
All you need to do is answer these two question:
1...How many times did Brian Clough win the European Cup with Nottingham Forest?
2... In what season did Cloughie win the English Championship (now Premiership) with Derby County?
When you have both answers please send them to us at Derby-county-mad@fsmail.net
all answers to contain your name and snail mail address (just in case you win) and the winner of the book will be drawn and notified on Sunday 30th October...
UPDATE and news from the book compiler Marcus Alton:
There will be a reading of sections of the book, followed by a Q&A session on Brian Clough at Waterstones, in Derby on Thursday November 3rd. Admission is just £2 and that can be refunded off the price of the book.