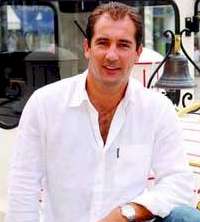 Igor opens Luxury Hotel
Ex Rams star Igor Stimac expects to welcome several England World Cup stars to his newly opened £10million Hotel after the World Cup is over.
Igor bought the Hotel Therapia in Crikvenica nearly two years ago and hopes that many more celebrities will follow the England players and enjoy the Northern Adriatic Luxury Hotel.
Relaxing shouldn't be a problem as the hotel boasts and indoor and outdoor swimming pool, dance terrace, mini golf course, massage centre and two restaurants.
Built in 1885 (coincidentally when Derby County first played at the Baseball ground) there are 113 rooms for its lucky guests.
Igor was back at Pride Park recently when he was a guest of Ted McMinn, prior to playing in his testimonial game against Rangers.