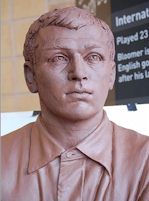 The final clay version of the Steve Bloomer Bust before it went to the foundry to be cast in bronze

The Steve Bloomer project was launched six years ago and aimed to raise a statue to the Rams legend Steve Bloomer.

The project has seen three Chairmen, and four (five if you count Terry Westley) managers of Derby County whilst efforts were made to produce a lasting memorial to Steve Bloomer.

Originally the intention was to produce a 1.5 life size bronze to stand proudly outside Pride Park but for varying reasons, including the colossal cost of £100,000, the statue idea had to be altered to fit in with expected fundraising and availability of space around the stadium.

The arrival of the American owners meant a new dawn for Derby County and for the project, as both Andy Appleby and Tom Glick embraced the idea of honouring possibly the greatest player ever to pull on a Derby County shirt and creating another unique feature within Pride Park Stadium.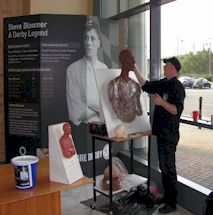 Andy Edwards starts the Steve Bloomer bust in the Foyer of Pride Park

The idea now was to create a smaller scale bronze bust of Steve Bloomer and to attach it to a large plinth that could be built out of Baseball Ground bricks, linking the two grounds that Derby County have played on, since their creation out of the Derbyshire County Cricket club.

The plinth and bust will be a unique tribute in league football, being as we believe to be, the only pitch-side facing memorial in the country. It also gives credibility to the song, always sung now before Derby County home matches of "Steve Bloomer's watching". On Saturday he will, sitting right next to Nigel Clough who takes charge of his first game as manager of Derby County.

The bust will be unveiled by members of Steve Bloomers family, representatives of the club and people associated with its inception and creation at 2.45pm, just prior to the Rams home game with Queens Park Rangers.

The Project leaders have asked me to publicly thank everyone who donated their money, time and effort in whatever way to making this project such a great success...

Just a few photographs from the archives of the Steve Bloomer project:


Andy Edwards has a few words with Rams fans, as they survey the progress to the Steve Bloomer bust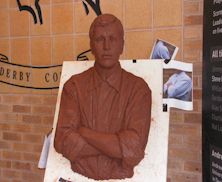 The final clay version of the Steve Bloomer bust stands proudly in the main entrance of Pride Park prior to casting in Oswestry.