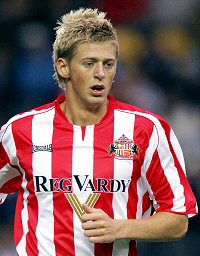 Jonathan Stead wanted by the Rams
Billy Davies has admitted to looking at Jon Stead to bolster his depleated strike force.
Stead has been struggling for form since joining Sunderland in a £1.8 million deal form Blackburn Rovers and has only managed two goals for the Black Cats.
Jonathon Stead started his career at Huddersfield in 2002. There he scored 22 goals in just 54 league appearances for the club. He then moved to Blackburn Rovers in a deal worth 1.25 million and scored 8 goals in 32 games for Rovers.
Stead's move to Sunderland for £1.8m at the start of the 2005-06 season has proved to be a disaster for the 23 year old striker. He has played 22 league games for the club but only found the net on two occasions.
Davies is hoping a partnership with Steve Howard will get the striker back on track and help the Rams after Paul Peschisolido was ruled out because of injury until late November.