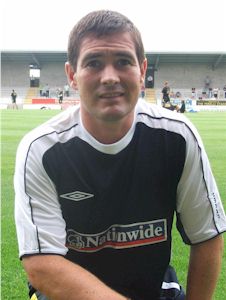 Cloughie returns, lets hope the same success follows the son of Clough
Within the last hour Derby County have made it public that they have appointed Nigel Clough as the new manager of Derby County Football Club.
Clough Junior now follows in his fathers footsteps and Rams fans are once again over the moon to have the Clough family associated with the Club.
Nigel has been learning the managerial game for the last ten years with Burton Albion and now feels he is ready to take on the challenge of a big Club. He knows the first few months will not be easy but he has shown he knows how to mould a team into a good unit, something Derby County have failed to do during the last two years.
Clough also has a very good reputation for playing the game and was rewarded with 14 England caps during his playing career.
His hayday was whilst playing for Arch Rivals Nottingham Forest, whilst there he played 317 games and scored a remarkable 102 goals. At nearly one goal every third game he ranks as one of the best strikers in the game during the 1984 to 1993 period he was with the Trees.
Clough has also made 300 appearances for Burton Albion as player and player manager.
The Rams have sealed their new manager on a three and a half year term but everyone hopes he will be here for at least the decade he has served Burton Albion.
All at Derby County Mad wish the very best of luck to Nigel and hope that he continues the success his father had at our club...