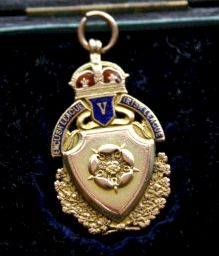 9ct Gold medal originally owned by Steve Bloomer
A piece of Derby County history was sold today at the Bamfords fine art auction in Ashbourne. The piece in question being a 9ct gold medal awarded to Steve Bloomer.
The medal was awarded for the FA League versus the Irish League representational match in 1900, a very rare item of memorabilia specifically linked to Derby County's greatest ever player.
The item was lot 901 and came at the end of a rain soaked but enjoyable days bidding and the winning bidder was not identified but not thought to have links with Derby County Football Club.
several directors had been approached by Bamford's and others to see if they would like to bid on the item and have it on display for fans in their display cases but unfortunately we were told they were "uninterested".
The winning bid was a whopping £1,700. This is only the hammer price and a 15% commission fee plus VAT would have to be added to the final price.
Whoever the mysterious winning bidder was he certainly had deeper pockets than the average Rams fan and now owns a very rare piece of Rams history.