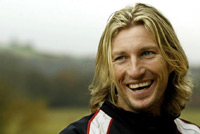 The gentler side of the man they call savage, as Robbie gives two fans a lift to the game
Robbie Savage became the most expensive taxi service in Derby before Saturdays game. As the Welshman travelled to Pride Park in his new Mercedes CL AMG he spotted two Rams fans a man and his young daughter waiting in the cold for a bus. As the man had on his Rams top Mr Savage assumed correctly that they were going to the game and offered them a lift, which they accepted.
Savage was not playing in the game against Sunderland but his kindness was spotted by local reporters and now the search is on for the identity of the mystery pair. Meanwhile Robbie hopes to be fit enough to play in the coming big games against Chelsea at Stamford Bridge in nine days time and will be praying he is picked when the Rams take on his former employers Manchester United at Pride Park on the 15th of March...