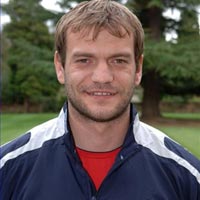 Roy Carroll here for the rest of the season
Derby County have announced their latest capture. Ranger Goalkeeper Roy Carroll has had his wish granted and now joins the Rams until the end of the season.
Carroll, as reported last night on Derby County Mad, was so intent on coming to Derby that he wanted to pay for his succesors £50,000 'rental' from Sunderland, which would enable his to move to Derby County.
In the end he was released by Rangers, enabling the Rams to pick him up on a free transfer.
International clearance is still required for Carroll to play in this Saturday's FA Cup 4th Rnd tie against Preston, so he must have clearance by Friday at noon, which the Rams are hopeful of getting.
Competition is now on for the goalkeeping position at Derby. Stephen Bywater, currently layed low with a shoulder injury FA Cup hero, Lewis Price must now fight for the place with Carroll. The 30 year old Carroll will of course be considered number one, being a former Premiership winner whilst at Manchester United. If he can replicate that form he will take some moving out of number one spot by Bywater and Price....