The Rams youngsters were disappointed after being beaten in the FA Youth Cup last night at Selhurst Park.

Crystal Palace secured the win with two first half goals, although the Rams must count themselves unlucky having a goal ruled out for off -side and having the ball cleared from off of the goal line on no less than three occasions.

Wilfred Zaha scored Palaces opening goal in the 30th minute. This was follwed up nine minutes later by Joe Goldsmith.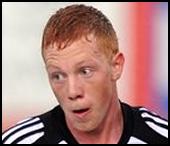 Ryan Connolly the Ram best player on the night

The Rams best player was winger, Ryan Connolly, who produced some exciting runs in the opening exchanges.

The game was watched by a crowd of 637
CRYSTAL PALACE: Mann, Kenlock, Parsons, Wynter, Nnamani, Holland, Williams (Caprice, 89), Goldsmith, Zaha, Sekajja (Williamson-Murrell, 90), Randell. Other subs: Pringle, Fitzsimmons, Knight, Field.
DERBY COUNTY: Severn, Garton, Jones, Le Sant, Keane, Abalimba (Cole, 45), Dillon (Whitham, 77), Hendrick, Ball, Kelly (Whight, 90), Connolly. Other subs: Betts, McElory.
REFEREE: T. Robinson...