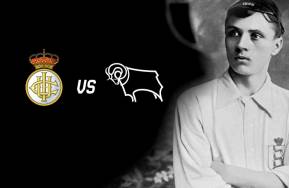 Derby County have won their first silver ware of the season with a 1-2 victory against Real Union in Spain.
The Ram sent their U23 side to contest the trophy in memory of Bloomer, who was the greatest goal scorer in Derby County history and also managed the Real Union side to win the Copa del Ray, the spanish version of the FA Cup.
The game was goal-less at the interval but the Rams struck early in the second period with a goal by Cover. The game then shifted up a gear as Real Union sought to equalise, but it was Derby who hit the second goal the ball eventually flicking off Walker to give Derby a cushion with only 15 minutes of the game to go.
Real Union did get a consolation goal with the last action of the game, a just reward for some persistant pressure, but Derby took the honours and the trophy.