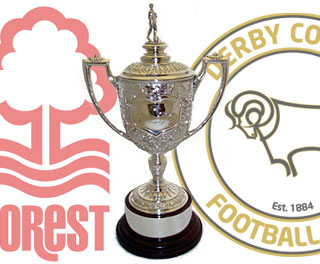 Well it's the big one this weekend as the Rams travel to the City Ground for 'the' Midlands derby.
The very first match between the two sides occurred in 1892, a game which saw Nottingham Forest win 2-3.
Fierce rivalry is claimed to be the eleventh fiercest in Britain, now whilst I can accept the Glasgow derby and Tyneside derbies may be more fervent than the East Midlands affair but who are the other eight pairs of teams with a rivalry more intense than Derby County and Nottingham Forest? Liverpool- Everton, more like a family re-union than a derby, Norwich against Ipswich, hardly a 33,000 full house, more of a tractor meet than a derby. Southampton –Portsmouth, remind me where have Portsmouth gone!
Anyway back to the Rams v Trees clash. The 5-0 drubbing of Forest last season at The Ipro stadium was the highest win for either side in the one hundred and twenty two year history of the real derby. With Craig Bryson getting the first hat-trick in one hundred and sixteen Years. An achievement only equalled by the great Steve Bloomer in 1898.
The Rams will look to keep a firm hold on the Brian Clough trophy on Sunday but with injuries and new faces in the Rams line-up it should be yet again a match not to be missed...
Full stats of all the games between Derby County and Nottingham Forest:
At Nottm. Forest (43)
At Derby County (43)
Results
Total
%
Results
Total
%
Nottm. Forest
19
44.19
Derby County
17
39.53
Derby County
14
32.56
Nottm. Forest
15
34.88
Draws
10
23.26
Draws
11
25.58
Goals
Total
Av.pg
Goals
Total
Av.pg
Nottm. Forest
82
1.91
Derby County
68
1.58
Derby County
66
1.53
Nottm. Forest
51
1.19
On Neutral Ground (0)
Overall (86 matches)
Results
Total
%
Results
Total
%
Nottm. Forest
0
0.00
Nottm. Forest
34
39.53
Derby County
0
0.00
Derby County
31
36.05
Draws
0
0.00
Draws
21
24.42
Goals
Total
Av.pg
Goals
Total
Av.pg
Nottm. Forest
0
0.00
Nottm. Forest
133
1.55
Derby County
0
0.00
Derby County
134
1.56
Records
Highest Aggregate
8
Derby County
2 - 6
Nottm. Forest
1903/1904
Highest Nottm. Forest score:
6
Derby County
2 - 6
Nottm. Forest
1903/1904
Highest Derby County score:
5
Derby County
5 - 0
Nottm. Forest
2013/2014
| Season | Date | Home | Score | Away | Competition |
| --- | --- | --- | --- | --- | --- |
| 2013/2014 | Sat 22 Mar | Derby County | 5 - 0 | Nottm. Forest | Championship |
| | Sat 28 Sep | Nottm. Forest | 1 - 0 | Derby County | Championship |
| 2012/2013 | Sat 19 Jan | Derby County | 1 - 1 | Nottm. Forest | Championship |
| | Sun 30 Sep | Nottm. Forest | 0 - 1 | Derby County | Championship |
| 2011/2012 | Tue 13 Mar | Derby County | 1 - 0 | Nottm. Forest | Championship |
| | Sat 17 Sep | Nottm. Forest | 1 - 2 | Derby County | Championship |
| 2010/2011 | Sat 22 Jan | Derby County | 0 - 1 | Nottm. Forest | Championship |
| | Wed 29 Dec | Nottm. Forest | 5 - 2 | Derby County | Championship |
| 2009/2010 | Sat 30 Jan | Derby County | 1 - 0 | Nottm. Forest | Championship |
| | Sat 29 Aug | Nottm. Forest | 3 - 2 | Derby County | Championship |
| 2008/2009 | Sat 21 Feb | Nottm. Forest | 1 - 3 | Derby County | Championship |
| | Wed 04 Feb | Nottm. Forest | 2 - 3 | Derby County | F.A. Cup |
| | Fri 23 Jan | Derby County | 1 - 1 | Nottm. Forest | F.A. Cup |
| | Sun 02 Nov | Derby County | 1 - 1 | Nottm. Forest | Championship |
| 2004/2005 | Sat 26 Feb | Nottm. Forest | 2 - 2 | Derby County | Championship |
| | Sat 11 Dec | Derby County | 3 - 0 | Nottm. Forest | Championship |
| 2003/2004 | Sat 20 Mar | Derby County | 4 - 2 | Nottm. Forest | League Division One |
| | Sat 27 Sep | Nottm. Forest | 1 - 1 | Derby County | League Division One |
| 2002/2003 | Wed 19 Mar | Nottm. Forest | 3 - 0 | Derby County | League Division One |
| | Sun 20 Oct | Derby County | 0 - 0 | Nottm. Forest | League Division One |
| 1998/1999 | Sat 10 Apr | Derby County | 1 - 0 | Nottm. Forest | Premiership |
| | Mon 16 Nov | Nottm. Forest | 2 - 2 | Derby County | Premiership |
| 1996/1997 | Wed 23 Apr | Derby County | 0 - 0 | Nottm. Forest | Premiership |
| | Sat 19 Oct | Nottm. Forest | 1 - 1 | Derby County | Premiership |
| 1993/1994 | Wed 27 Apr | Derby County | 0 - 2 | Nottm. Forest | League Division One |
| | Wed 18 Aug | Nottm. Forest | 1 - 1 | Derby County | League Division One |
| 1990/1991 | Wed 10 Apr | Nottm. Forest | 1 - 0 | Derby County | First Division |
| | Sat 24 Nov | Derby County | 2 - 1 | Nottm. Forest | First Division |
| 1989/1990 | Sat 20 Jan | Derby County | 0 - 2 | Nottm. Forest | First Division |
| | Wed 30 Aug | Nottm. Forest | 2 - 1 | Derby County | First Division |
| 1988/1989 | Sat 25 Mar | Derby County | 0 - 2 | Nottm. Forest | First Division |
| | Sat 17 Sep | Nottm. Forest | 1 - 1 | Derby County | First Division |
| 1987/1988 | Wed 30 Mar | Nottm. Forest | 2 - 1 | Derby County | First Division |
| | Sat 10 Oct | Derby County | 0 - 1 | Nottm. Forest | First Division |
| 1979/1980 | Sat 19 Apr | Nottm. Forest | 1 - 0 | Derby County | First Division |
| | Sat 24 Nov | Derby County | 4 - 1 | Nottm. Forest | First Division |
| 1978/1979 | Sat 14 Apr | Derby County | 1 - 2 | Nottm. Forest | First Division |
| | Tue 26 Dec | Nottm. Forest | 1 - 1 | Derby County | First Division |
| 1977/1978 | Sat 14 Jan | Derby County | 0 - 0 | Nottm. Forest | First Division |
| | Sat 27 Aug | Nottm. Forest | 3 - 0 | Derby County | First Division |
| 1971/1972 | Sat 19 Feb | Derby County | 4 - 0 | Nottm. Forest | First Division |
| | Sat 30 Oct | Nottm. Forest | 0 - 2 | Derby County | First Division |
| 1970/1971 | Wed 31 Mar | Derby County | 1 - 2 | Nottm. Forest | First Division |
| | Sat 28 Nov | Nottm. Forest | 2 - 4 | Derby County | First Division |
| 1969/1970 | Sat 14 Mar | Nottm. Forest | 1 - 3 | Derby County | First Division |
| | Sat 29 Nov | Derby County | 0 - 2 | Nottm. Forest | First Division |
| 1954/1955 | Sat 02 Apr | Derby County | 1 - 2 | Nottm. Forest | Second Division |
| | Sat 13 Nov | Nottm. Forest | 3 - 0 | Derby County | Second Division |
| 1953/1954 | Sat 10 Apr | Derby County | 1 - 2 | Nottm. Forest | Second Division |
| | Sat 07 Nov | Nottm. Forest | 4 - 2 | Derby County | Second Division |
| 1925/1926 | Sat 06 Feb | Derby County | 2 - 0 | Nottm. Forest | Second Division |
| | Sat 26 Sep | Nottm. Forest | 1 - 2 | Derby County | Second Division |
| 1921/1922 | Sat 01 Oct | Nottm. Forest | 3 - 0 | Derby County | Second Division |
| | Sat 24 Sep | Derby County | 1 - 2 | Nottm. Forest | Second Division |
| 1914/1915 | Sat 26 Dec | Derby County | 1 - 0 | Nottm. Forest | Second Division |
| | Fri 25 Dec | Nottm. Forest | 2 - 2 | Derby County | Second Division |
| 1911/1912 | Tue 09 Apr | Derby County | 1 - 0 | Nottm. Forest | Second Division |
| | Tue 26 Dec | Nottm. Forest | 1 - 3 | Derby County | Second Division |
| 1905/1906 | Tue 17 Apr | Nottm. Forest | 0 - 0 | Derby County | First Division |
| | Tue 26 Dec | Derby County | 2 - 2 | Nottm. Forest | First Division |
| 1904/1905 | Sat 25 Feb | Derby County | 3 - 2 | Nottm. Forest | First Division |
| | Sat 29 Oct | Nottm. Forest | 0 - 1 | Derby County | First Division |
| 1903/1904 | Sat 12 Mar | Nottm. Forest | 5 - 1 | Derby County | First Division |
| | Sat 14 Nov | Derby County | 2 - 6 | Nottm. Forest | First Division |
| 1902/1903 | Sat 17 Jan | Derby County | 0 - 1 | Nottm. Forest | First Division |
| | Sat 20 Sep | Nottm. Forest | 2 - 3 | Derby County | First Division |
| 1901/1902 | Sat 01 Mar | Nottm. Forest | 3 - 1 | Derby County | First Division |
| | Sat 02 Nov | Derby County | 1 - 1 | Nottm. Forest | First Division |
| 1900/1901 | Sat 16 Mar | Derby County | 0 - 0 | Nottm. Forest | First Division |
| | Sat 10 Nov | Nottm. Forest | 1 - 0 | Derby County | First Division |
| 1899/1900 | Sat 03 Mar | Nottm. Forest | 4 - 1 | Derby County | First Division |
| | Sat 28 Oct | Derby County | 2 - 2 | Nottm. Forest | First Division |
| 1898/1899 | Thu 20 Apr | Derby County | 2 - 0 | Nottm. Forest | First Division |
| | Sat 17 Dec | Nottm. Forest | 3 - 3 | Derby County | First Division |
| 1897/1898 | Mon 11 Apr | Derby County | 5 - 0 | Nottm. Forest | First Division |
| | Sat 30 Oct | Nottm. Forest | 3 - 4 | Derby County | First Division |
| 1896/1897 | Wed 18 Nov | Nottm. Forest | 1 - 2 | Derby County | First Division |
| | Sat 05 Sep | Derby County | 1 - 1 | Nottm. Forest | First Division |
| 1895/1896 | Sat 07 Dec | Derby County | 4 - 0 | Nottm. Forest | First Division |
| | Sat 05 Oct | Nottm. Forest | 2 - 5 | Derby County | First Division |
| 1894/1895 | Sat 03 Nov | Nottm. Forest | 2 - 1 | Derby County | First Division |
| | Sat 08 Sep | Derby County | 4 - 2 | Nottm. Forest | First Division |
| 1893/1894 | Sat 30 Dec | Nottm. Forest | 4 - 2 | Derby County | First Division |
| | Sat 09 Dec | Derby County | 3 - 4 | Nottm. Forest | First Division |
| 1892/1893 | Sat 28 Jan | Nottm. Forest | 1 - 0 | Derby County | First Division |
| | Sat 01 Oct | Derby County | 2 - 3 | Nottm. Forest | First Division |
| | | | | | |