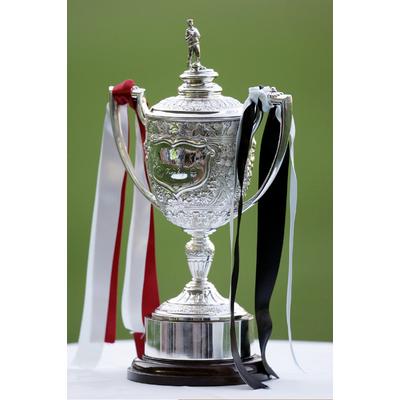 The much awaited clash between Derby County and Nottingham Forest has now officially sold out.
The 1.00pm kick-off will see over 33,000 supporters inside Pride Park for the East Midlands show piece game.
The Rams aim to continue their winning ways after four sucessive wins over bitter rivals Nottingham Forest but recent imports into the City Ground could see the game being a close one.
Derby have injury worries over Will Hughes and John Brayford, but have high hopes of retaining the Brian Clough Trophy...
2012/2013
Sun 30 Sep
Nottm. Forest
0 - 1
Derby County
Championship
2011/2012
Tue 13 Mar
Derby County
1 - 0
Nottm. Forest
Championship
Sat 17 Sep
Nottm. Forest
1 - 2
Derby County
Championship
2010/2011
Sat 22 Jan
Derby County
0 - 1
Nottm. Forest
Championship
Wed 29 Dec
Nottm. Forest
5 - 2
Derby County
Championship
2009/2010
Sat 30 Jan
Derby County
1 - 0
Nottm. Forest
Championship
Sat 29 Aug
Nottm. Forest
3 - 2
Derby County
Championship
2008/2009
Sat 21 Feb
Nottm. Forest
1 - 3
Derby County
Championship
Wed 04 Feb
Nottm. Forest
2 - 3
Derby County
F.A. Cup
Fri 23 Jan
Derby County
1 - 1
Nottm. Forest
F.A. Cup
Sun 02 Nov
Derby County
1 - 1
Nottm. Forest
Championship
2004/2005
Sat 26 Feb
Nottm. Forest
2 - 2
Derby County
Championship
Sat 11 Dec
Derby County
3 - 0
Nottm. Forest
Championship
2003/2004
Sat 20 Mar
Derby County
4 - 2
Nottm. Forest
League Division One
Sat 27 Sep
Nottm. Forest
1 - 1
Derby County
League Division One
2002/2003
Wed 19 Mar
Nottm. Forest
3 - 0
Derby County
League Division One
Sun 20 Oct
Derby County
0 - 0
Nottm. Forest
League Division One
1998/1999
Sat 10 Apr
Derby County
1 - 0
Nottm. Forest
Premiership
Mon 16 Nov
Nottm. Forest
2 - 2
Derby County
Premiership
1996/1997
Wed 23 Apr
Derby County
0 - 0
Nottm. Forest
Premiership
Sat 19 Oct
Nottm. Forest
1 - 1
Derby County
Premiership
1993/1994
Wed 27 Apr
Derby County
0 - 2
Nottm. Forest
League Division One
Wed 08 Sep
Derby County
3 - 2
Nottm. Forest
Anglo-Italian Cup
Wed 18 Aug
Nottm. Forest
1 - 1
Derby County
League Division One
1990/1991
Wed 10 Apr
Nottm. Forest
1 - 0
Derby County
First Division
Sat 24 Nov
Derby County
2 - 1
Nottm. Forest
First Division
1989/1990
Sat 20 Jan
Derby County
0 - 2
Nottm. Forest
First Division
Wed 30 Aug
Nottm. Forest
2 - 1
Derby County
First Division
1988/1989
Sat 25 Mar
Derby County
0 - 2
Nottm. Forest
First Division
Sat 17 Sep
Nottm. Forest
1 - 1
Derby County
First Division
1987/1988
Wed 30 Mar
Nottm. Forest
2 - 1
Derby County
First Division
Sat 10 Oct
Derby County
0 - 1
Nottm. Forest
First Division
1985/1986
Wed 30 Oct
Derby County
1 - 2
Nottm. Forest
League Cup
1982/1983
Sat 08 Jan
Derby County
2 - 0
Nottm. Forest
F.A. Cup
1979/1980
Sat 19 Apr
Nottm. Forest
1 - 0
Derby County
First Division
Sat 24 Nov
Derby County
4 - 1
Nottm. Forest
First Division
1978/1979
Sat 14 Apr
Derby County
1 - 2
Nottm. Forest
First Division
Tue 26 Dec
Nottm. Forest
1 - 1
Derby County
First Division
1977/1978
Sat 14 Jan
Derby County
0 - 0
Nottm. Forest
First Division
Sat 27 Aug
Nottm. Forest
3 - 0
Derby County
First Division
1971/1972
Sat 19 Feb
Derby County
4 - 0
Nottm. Forest
First Division
Sat 30 Oct
Nottm. Forest
0 - 2
Derby County
First Division
1970/1971
Wed 31 Mar
Derby County
1 - 2
Nottm. Forest
First Division
Sat 28 Nov
Nottm. Forest
2 - 4
Derby County
First Division
1969/1970
Sat 14 Mar
Nottm. Forest
1 - 3
Derby County
First Division
Sat 29 Nov
Derby County
0 - 2
Nottm. Forest
First Division
1954/1955
Sat 02 Apr
Derby County
1 - 2
Nottm. Forest
Second Division
Sat 13 Nov
Nottm. Forest
3 - 0
Derby County
Second Division
1953/1954
Sat 10 Apr
Derby County
1 - 2
Nottm. Forest
Second Division
Sat 07 Nov
Nottm. Forest
4 - 2
Derby County
Second Division
1935/1936
Sat 25 Jan
Derby County
2 - 0
Nottm. Forest
F.A. Cup
1927/1928
Wed 01 Feb
Nottm. Forest
2 - 0
Derby County
F.A. Cup
Sat 28 Jan
Derby County
0 - 0
Nottm. Forest
F.A. Cup
1925/1926
Sat 06 Feb
Derby County
2 - 0
Nottm. Forest
Second Division
Sat 26 Sep
Nottm. Forest
1 - 2
Derby County
Second Division
1921/1922
Sat 01 Oct
Nottm. Forest
3 - 0
Derby County
Second Division
Sat 24 Sep
Derby County
1 - 2
Nottm. Forest
Second Division
1914/1915
Sat 26 Dec
Derby County
1 - 0
Nottm. Forest
Second Division
Fri 25 Dec
Nottm. Forest
2 - 2
Derby County
Second Division
1911/1912
Tue 09 Apr
Derby County
1 - 0
Nottm. Forest
Second Division
Tue 26 Dec
Nottm. Forest
1 - 3
Derby County
Second Division
1908/1909
Sat 13 Mar
Derby County
3 - 0
Nottm. Forest
F.A. Cup
1905/1906
Tue 17 Apr
Nottm. Forest
0 - 0
Derby County
First Division
Tue 26 Dec
Derby County
2 - 2
Nottm. Forest
First Division
1904/1905
Sat 25 Feb
Derby County
3 - 2
Nottm. Forest
First Division
Sat 29 Oct
Nottm. Forest
0 - 1
Derby County
First Division
1903/1904
Sat 12 Mar
Nottm. Forest
5 - 1
Derby County
First Division
Sat 14 Nov
Derby County
2 - 6
Nottm. Forest
First Division
1902/1903
Sat 17 Jan
Derby County
0 - 1
Nottm. Forest
First Division
Sat 20 Sep
Nottm. Forest
2 - 3
Derby County
First Division
1901/1902
Sat 01 Mar
Nottm. Forest
3 - 1
Derby County
First Division
Sat 02 Nov
Derby County
1 - 1
Nottm. Forest
First Division
1900/1901
Sat 16 Mar
Derby County
0 - 0
Nottm. Forest
First Division
Sat 10 Nov
Nottm. Forest
1 - 0
Derby County
First Division
1899/1900
Sat 03 Mar
Nottm. Forest
4 - 1
Derby County
First Division
Sat 28 Oct
Derby County
2 - 2
Nottm. Forest
First Division
1898/1899
Thu 20 Apr
Derby County
2 - 0
Nottm. Forest
First Division
Sat 17 Dec
Nottm. Forest
3 - 3
Derby County
First Division
1897/1898
Thu 14 Apr
Nottm. Forest
3 - 1
Derby County
F.A. Cup
played at Crystal Palace
Mon 11 Apr
Derby County
5 - 0
Nottm. Forest
First Division
Sat 30 Oct
Nottm. Forest
3 - 4
Derby County
First Division
1896/1897
Wed 18 Nov
Nottm. Forest
1 - 2
Derby County
First Division
Sat 05 Sep
Derby County
1 - 1
Nottm. Forest
First Division
1895/1896
Sat 07 Dec
Derby County
4 - 0
Nottm. Forest
First Division
Sat 05 Oct
Nottm. Forest
2 - 5
Derby County
First Division
1894/1895
Sat 03 Nov
Nottm. Forest
2 - 1
Derby County
First Division
Sat 08 Sep
Derby County
4 - 2
Nottm. Forest
First Division
1893/1894
Sat 30 Dec
Nottm. Forest
4 - 2
Derby County
First Division
Sat 09 Dec
Derby County
3 - 4
Nottm. Forest
First Division
1892/1893
Sat 28 Jan
Nottm. Forest
1 - 0
Derby County
First Division
Sat 01 Oct
Derby County
2 - 3
Nottm. Forest
First Division