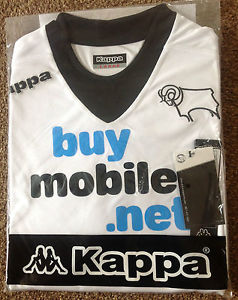 We all love a bargain and we all love Derby County, so why not combine the two and enter the auction to win a match worn shirt from this Saturday's eagerly awaited East Midlands derby with Nottingham Forest.
Derby County will offer their match worn shirts for auction directly after the final whistle this weekend. The auction will be on-line and wil end at 8.00pm Friday April 4th 2014. you can sign up to bid by clicking here.
Tthe bidding starts for each shirt at £75. If you are sucessful in the auction you get the match worn shirt, which will be signed by the player who wore it.
So a unique chance to get yourself a piece of Rams v Forest history and good luck with your bids..