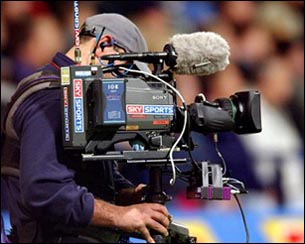 Sky Sports cameraman will get to know the Rams players during the next few months
Derby County , as we know, are a very popular football club and their popularity is in evidence throughout February and March. The Rams will feature on SKY Sports on no less than three times in eleven days starting with the away fixture against Sunderland that will now take place on Monday 26th February.
This will be closely followed by the home game against Colchester, now re-arranged for Friday 2nd March. A recent addition is, what could be a Championship decider against current league leaders Birmingham City. This game, due to be played on the 10th March will now be shown live on SKY Sports on Friday 9th March.
Another game that has been re-arranged, but nothing to do with SKY, is the home clash against Queens Park Rangers, which is now to be played on Tuesday 13th March.
Let us all hope that the fixture changes and TV coverage does not throw a spanner in the works and all the good work already achieved by Billy Davies and the squad continues until the 6th May (subject to re-arrangments)