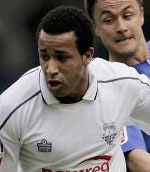 Derby County are reportedly to sell 'want away' right back Tyrone Mears for half the price they paid for the ex West Ham man less than two years ago.
Burnley are understood to be willing to only pay £500,000 for Mears services in the Premiership next season but Mears cost the Rams £1m in July 2007. Add ons are thought to also be in the deal, which may take the eventual payment for Mears up to £600,000, but poor return on a Million Pound investment.
No doubt the reason for the small price is the fact that Mears will be on Premiership wages and there is also the small matter of running away from the club and demanding to go on loan to Marseilles, which was eventually granted last season.
Mears returned to the Rams after six months with the French club but was not thought good enough for Marseilles to pursue any further interest in the player.
Former Rams manager Paul Jewell was quoted as saying "Mears will never play for Derby County again" and it looks as though his forecast will come true...