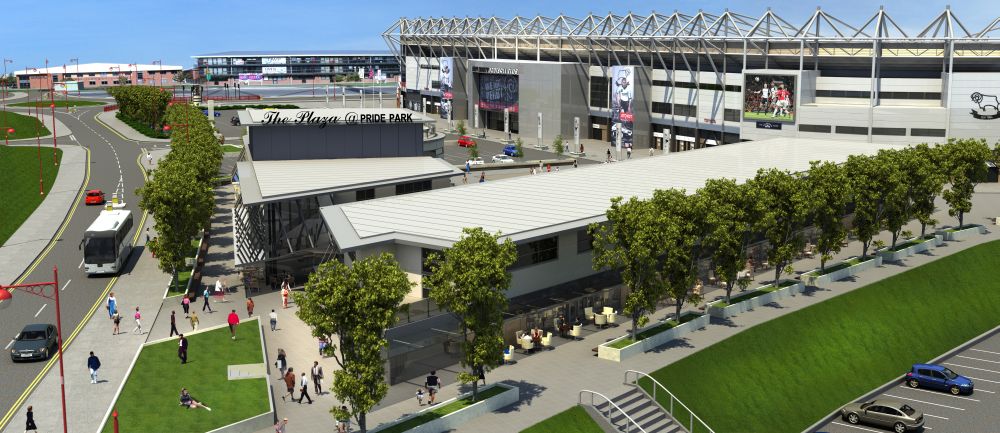 Derby County today unveiled their continued development of the Area around Pride Park. The new initiative will be called Plaza @ Pride Park and is expected to cost around £7m to complete.
The first stage of the project is to apply for planning permission from Derby City Council, which is thought to be a mere formality given that the Council hope to benefit from the project by integrating it with a proposed multi Sport venue that can double as a concert hall, something the City has been wanting for some time.
The Plaza idea was first put forward by then Derby County Chairman, Peter Gadsby back in 2007. His vision for the area along the West stand car park was to include a Hotel. This idea has now been scaled down, and removing the planned hotel has reduced costs to a more favourable £7m, rather than the £20m the Gadsby vision would have cost.
Funding for the new project is expected to come from local business' and investors. Derby County stress that no monies will be taken from the club to fund this venture but the club hopes to benefit from increased revenue once the project is complete.
There will be a proposed five Café's on the new area, a restaurant, bars, shops and office space made available, although no firm date for the start of the project has been made, assuming planning permission is agreed.
Fans are being asked about the proposed project, some think it will enhance the facilities already available around Pride Park, others sceptical on the viability of so many café's etc in the periods when there are no match at the stadium.
Other fans are concerned over the inevitable lack of parking immediately outside the West Stand once the project gets underway but Derby County have already looked into an improved coach/bus service to and from the stadium on match days and hope this will still allow for free and easy access to the stadium for those less mobile than others...