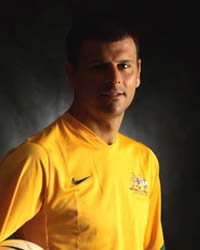 Mile Sterjovski needs a work permit to join the Rams
Derby County's season has not been a smooth running one and it comes as no surprise that their efforts to bring Australian Striker MileSterjovski has been seriously delayed by the refusal of a work permit.
Mile should have qualified easily had he played the required games for his native Australia but he has been based in Europe for a while now and the decision by the Australians not to pick any European based players for their national side has meant Mile has not played the required international games.
The Rams intend to appeal for a permit for Sterjovski but it is uncertain if he will be allowed one.
Meanwhile the Rams have a shortage of fit strikers for Tuesday's FA cup Replay. Only Tito Villa is free from injury, although Kenny Miller may be available if he has recovered from thre groin injury that kept him out of the game on Saturday...