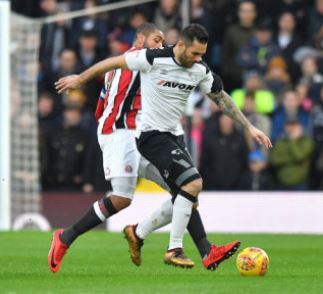 In the modern game you hear and see players falling over at the slightest touch, or rolling around the ground as though a sniper had just taken a shot at them from the stands, but Derby seem to have a player made of the old stuff in Bradley Johnson.
Bradley has been playing with a broken bone in his back and must have been in some considerable pain when he took to the field for the first game of 2018 with the broken bone to his back.
Rams manager Gary Rowett had stated that he thought there was something wrong with Johnson after the draw with Sheffield United. Adding that he was not critisisng the performance. Everyone now knows that many players would not have contemplated playing in the match but Rowett knew he wasn't right.
Johnson now faces a lengthy spell on the sidelines as the injury heals naturally. Rowett is hoping that he can have Johnson back in a months time but the ijury will be constantly assessed and any further treatment or time out of the game may have to happen.
The one good thing is Derby have a good selection of layers able to deputise for Johnson and his return will not be rushed.