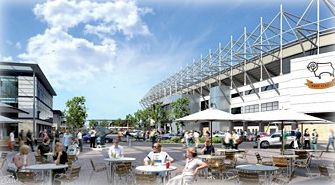 Artists impression of £20m development
Derby County have revealed a £20million development around Pride Park. Pride Plaza, as the scheme will be known will have developments on the East and West sides of Pride Park Stadium.
A hotel, which will be 8 storey's high and accommodate 165 beds, as well as a convenience store, restaurants and even a bank will included in this major change t the Pride Park stadium area.
The developments will mean work for over 250 people once the building work is completed, however the plans have yet to be submitted to Derby City Council.
Peter Gadsby, Chairman of Derby County FC hopes once the plans are passed, this step forward in the history of Derby County will benefit workers in the Pride Park area and will also further improve facilities for fans on match days.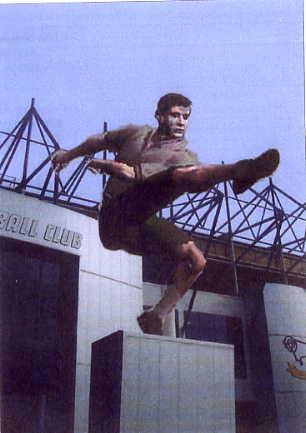 An artist impression of how the original Steve Bloomer statue would have looked
Steve Bloomer and Brian Clough legends of Derby County are to be honoured by having two of the developments named after them and a monument to each. Lionel Pickering is also not forgotten. As the man behind the Rams move to Pride Park, he will have the road behind the East stand named after him.
It is envisaged that plans for the development will be submitted to Derby City Council within the next three months and if accepted work will begin in 12 months time.