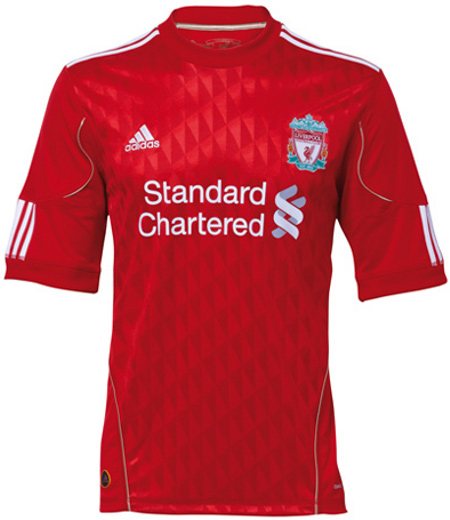 Will the new Rams shirt be a black and white version of the Liverpool 2010-11 season home shirt? We will all have to wait until Friday to get a glimps at the new Rams shirt.

Derby County will be unveiling their new kit for the 2010-11 season next Friday night, 16th July at Pride Park stadium.

Speculation is again rife among fans as to the design of the new shirt and kit but tight security means Rams fans have to wait until Friday for their first glimps of the new regalia.

The shirt is currently available to pre-order and if you order by the end of play this coming Monday, 12th July you will be in with a chance of playing a game of 'Play your shirt right' at Friday's launch. Those attending the launch will also be in with a chance of taking part on stage in the 'Wheel of fortune' game. Supporters will be able to win many and various Derby County related prizes.

The launch will be attended by the whole of the Rams squad with players modelling the new kit at 6.00pm. Supporters will then have an opportunity to have their new kit signed by the players, although personally speaking, having paid £40 for the shirt I would not want anyone writing on it. Maybe taking a pen and paper would be wiser.

People wanting to pre-order the shirt can do so at wearderby.com . Adidas are again the manufacturer and have come up with some radical new material which gives superb ventilation to the body when playing. The new material is called formation, which follows every curve of the body and moves with the person as they move around. Something that may not suit all supporters with more ample curves than others I suspect.

Anyone pre-ordering a 2010-11 shirt will also go into a draw. Twenty five lucky supporters will then be drawn out and will be able to attend the after-launch party being given by the Rams at Jury's Inn in the City...