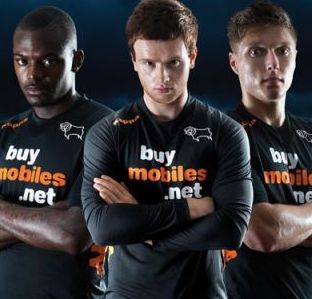 The eagerly awaited new away kit has just been released by the Rams and has received some good reviews from fans so far.
A skin tight 100% polyester all black kit by new kit suppliers Kappa has been a hit with the players, who have been pleased with the design, fit and comfort of the kit.
Kappa have signed a five year deal with the Rams and have consulted with kit sponsor 'Buy Mobiles.net ', who have changed the colouring of their logo to add a splash of orange to the all black kit.
Another new feature is the return to the old Derby County badge of the Championship winning days of the 1970's to the kit. This sits high on the left hand side of the shirt. The return to the badge will hopefully help people realise 'We are the Rams' and again a link with the Championship winning sides of that era.
If you want one of these kits you will have to wait until the 27th July, when they go on sale in the newly named DCFC megastore, with an adult shirt costing £45...