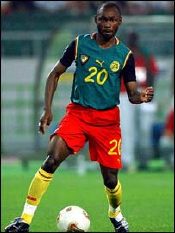 Salomon Olembe looks to impress Davies
The Rams are again looking at their midfield and will give a trial to Salomon Olembe of Olympique De Marseille. The 26 year old has plenty of International experience having played over 50 times for Cameroon. Olembe also has Premiership experience with Leeds United, who he joined on loan during the 2003-04 season, playing his last game against Chelsea.
Olembe has also taken part in two World Cups with Cameroon playing his part in the 1998 and 2002 competitions.
Davies may have been drawn to Olembe by his quick feet and lightening fast runs,. He loves to take players on and join in with the attack when at all possible.Something that he showed to good effect last season when playing in Qatar for Al Rayyan. He started 14 times and scored 3 goals.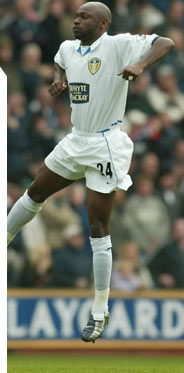 Olembe during his loan spell with Leeds United
Olembe will be taking part in one of two Rams friendly-pre-season warm-up games tonight either at Burton Albion or in Macclesfield. The Rams also have other trialists playing but as yet the club have not released any names.