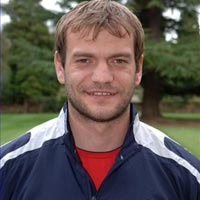 Roy Carroll finally arrives
The Rams have secured the signiture of Rangers Goalkeeper Roy Carroll for the rest of the season.
The long dicussions over the transfer were due to Rangers wanting cover for Carroll before any move could be finalised. He takes over in goal for this weekends match at Birmingham and takes the number 31 jersey.
It is unclear if Carroll will be staying with the Rams if the club fails to avoid relegation, which now looks fairly certain.
Carroll who is 30 has a Premiership winners medal during his time with Manchester United and has European experience with them and Rangers.
The Rams are also rumoured to have made a last minute attempt to bring Everton Defender Alan Stubbs to Pride Park. The 36 year old is out of contract at the end of the season and has not as yet discussed a re-newal to his contract, as per the rules at Goodison Park.

Stephen Bywater moves to Ipswich on a season long loan spell
Moving out is Rams keeper Stephen Bywater, he will be moving to suffolk and will sign a season long loan at Ipswich Town. The move is seen as a possible permanent one should all parties agree in the summer....