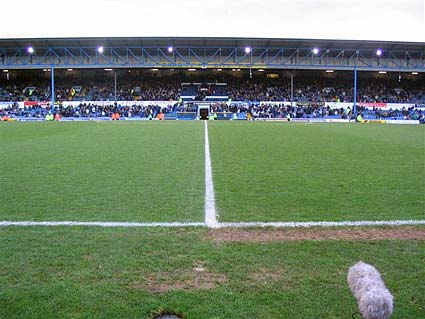 Cardiff City's Ninian Park pitch doesn't have undersoil heating which caused the postponement of Saturday's game, much to the annoyance of the Rams fans.
Several thousand Rams fans were left disgruntled, upset and out of pocket after Saturday's game against Cardiff was postponed due to a frozen pitch less than two and half hours before kick-off.
Supporters groups have condemed the late move by referee Neil Swarbrick and are very angry at the lateness of the calling off. As tempretures during the week had failed to raise much above freezing it was unlikely that the ground would thaw enough to play the game but referee Swarbrick inspected the pitch at noon and promptly called for another inspection at 1.00pm. However sense seemed to prevail at this late point and the game was called off after another 40 minutes and consultation with both managers.
The lateness of the calling off meant most Rams fane were either near the ground or half way between Derby and Cardiff as the news broke.
Should the pitch have been inspected earlier and should common sense have told everyone that a pitch without undersoil heating was in danger of not being playable?
We think so, and so do many Rams fans who had made the effort to attend the game. Many supporters clubs face another £500+ charge for coaches to take them to the re-arranged game which will now be a night match, giving rise to further postponement.
Nigel Clough may have been greatful that his first game in charge of the Rams will now be at Pride Park this Saturday. Time I am sure he will not waste in getting a better understanding of his new squad...