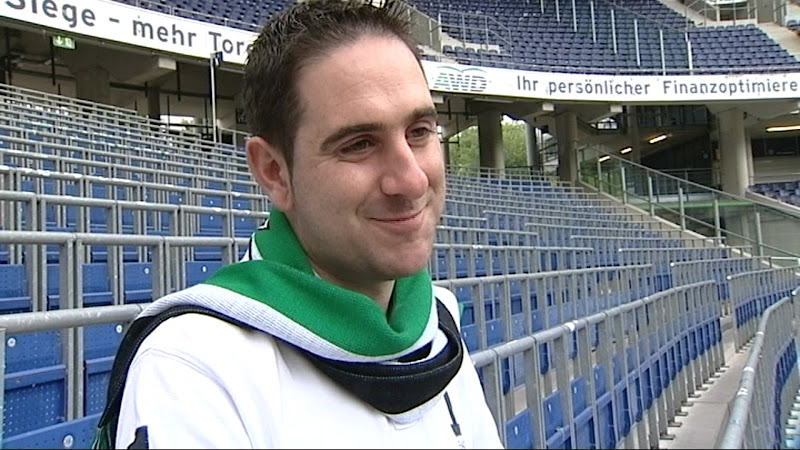 Derby fan Nick views safe standing in Hannover
Derby County fan Nick Webster last week visited the ground of German football club Hannover 96 to get a first-hand look at the sort of safe standing facilities that he hopes will one day be available at Pride Park.
Nick had been invited over to Hannover to take part in a promotional film for 'rail seats', a special style of stadium seating designed to enable clubs to provide extremely safe accommodation for standing fans, while still being able operate the stadium as an all-seater ground when necessary or preferred, e.g. for a European football game or a concert.
Telling Derby County officials this week about his visit, Nick said: "The home end has 3,000 rail seats in it. When used for safe standing that provides room for 5,400 cheering fans. In the corner at the opposite end there are a further 1,000 rail seats for away fans, where 1,800 are accommodated when used for standing."
Nick also reported to the club that the rail seats, which are made of steel, are 12 years old and that Hannover 96 told him they had never had a single one break. Something that Nick felt couldn't be said for the plastic seats in most British grounds, such as Pride Park – especially in areas occupied by the more vibrant home supporters or the visiting fans.
He was also told by the Hannover club's fan liaison officer that although fans had from time to time broken bones falling over the back of normal seats in the traditional grandstands, they had never had any such injuries in the safe standing areas."I cannot stress enough how safe it is compared to standing behind normal seats. And it looked brilliant!" enthused Nick.
Nick has also spoken to Derby County manager Nigel Clough about his visit. Clough confirmed that the club had seen a demonstration of rail seats and supported theconcept: "As a club that places great importance on customer care, we recognise that a not insignificant number of our fans prefer to watch football standing up, but we currently do not have the opportunity to satisfy this customer preference," he said."However, having seen a demonstration of rail seats, we believe that the concept has merit and could provide us with a safe and well-managed means of doing so. We therefore request that the relevant authorities take a close look at the rail seat system with a view to defining appropriate criteria under which it could be introduced in future at grounds such as ours."
With Derby County thus echoing the interest in safe standing expressed in January by Aston Villa and with trials of areas fitted with rail seats sanctioned by the Scottish Premier League last December, Nick is now hoping that he won't have to wait too long until he attends the official opening of a safe standing area at Pride Park!...