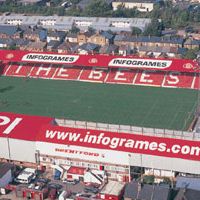 Griffin Park, will the FA Cup match be able to go ahead?
There is a doubt this morning concerning Saturday's FA Cup tie between Brentford and Derby County.
The home game for the Bee's against Colchester United was abandoned before kick-off January 1st 2003 because the pitch was waterlogged and further rain is expected in the next 48 hours.
Rail travel is also badly effected in the London and south coast areas because of the rain and it may be worth checking not only on the game but on your planned rail travel arrangements before this weekends game.