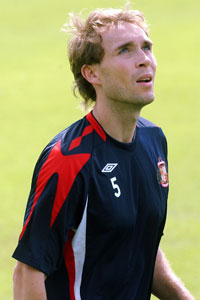 Russell Anderson expected to sign for the Rams today
Derby County hope to bring in defensive back-up today in the form of free agent Russell Anderson. The 31-year-old defender is thought to be being brought in to cover injuries to Dean Leacock and Miles Addison.
Any contract will be on a short term basis after Anderson was released from his contract by Sunderland yesterday. Anderson has just recovered from a lengthy injury himself, he had been out for 14 months following a crutciate ligament Injury . The move to the Rams is seen as a chance for Anderson to get back into first team football.
An experienced defender with over 300 appearances for Scottish league side Aberdeen and also eleven International appearances for Scotland. Anderson was Aberdeen Captain before a Million pound move to Sunderland in 2007. Injury however kept Anderson's appearances down to just 2 appearances for the Black Cats.
The Rams hope to complete the signing in time to enable Anderson to play against Peterborough tomorrow afternoon...