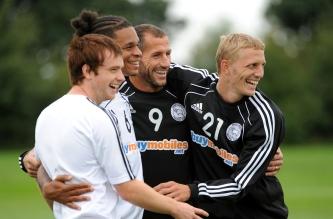 Shefki Kuqi (number 9) is wanted by manager Nigel Clough for a longer loan spell.

It is reported that Nigel Clough is actively seeking to extend the current loan of Shefki Kuqi. The Finnish international present loan deal expires in mid December and Clough would like the striker back at Pride Park in January.

Clough has already started negotiations with Swansea to try and seal the deal before the current one runs out. Kuqi has only played four games for the Rams but has already become a crowd and manager favourite.

Clough added that Kuqi adds something to the Rams squad that no one else has been able to bring to the squad since he has been at the club.

Other rumours say that Clough is also chasing 21 year-old Australian International Shane Lowry. The defender is not currently getting a game with Aston Villa but the enquiry by the Rams now depends on the plans Gerald Houlier has for the Aussie...