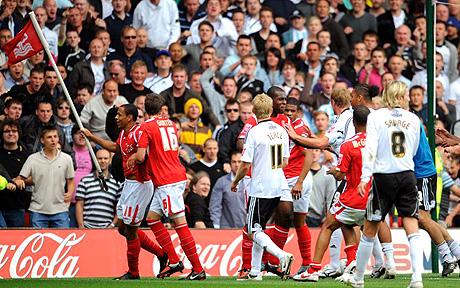 Nathan Tyson (with flag) starts the unfortunate incident in front of the Rams supporters that now sees both teams charges with failure to control their players and officials.
The Rams have admitted their guilt following the Forest Rams match on the 29th August.
Derby players were trying to disuade Forest striker Nathan Tyson from enraging the Derby section of the crowd following the Trees 3-2 win.
The Rams have asked for a personal hearing and this will be held at Leicester City's Walkers Stadium on the 22nd October.
Forest meanwhile have denied the charges of "failure to ensure their players and/or officials conducted themselves in an orderly fashion". Their hearing will be held at FA HQ at Wembley Stadium.
Nathan Tyson the instigator of the whole incident has admitted his part in the incident and charges of "improper conduct". He will also face the FA at Wembley..