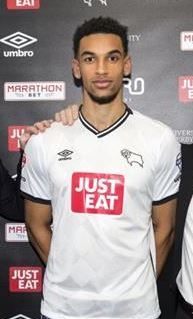 Derby County today completed the signing of Readings Nick Blackman for a fee of £2.5m. The contract is for three and a half years.
This now adds to the Rams attacking options and Paul Clement can't wait to see just what his new signings can do.
Blackman was due to sign for Sheffield Wednesday but with Derby equaling the £2.5M asking price He decided his future lay with the Rams rather than the Blades.
Paul Clement has stated that Blackman will "Enhance attacking areas at the club" and Blackman can play as a winger.
| | |
| --- | --- |
| Real name | Nick Blackman |
| Age | 26 (Born 11 Nov, 1989) |
| Height | 6ft 2in (1.88m) |
| Weight | 11st 6lb (72.56kg) |
| | |
| --- | --- |
| Place of birth | Bury |
| Nationality | England |
| Date Signed | 30 Jan, 2013 |
| Fee | Signed |
Career
CLUB
FROM
TO
FEE
LEAGUE
FA CUP
LGE CUP
OTHER
APPS
GLS
APPS
GLS
APPS
GLS
APPS
GLS
Reading
30 Jan, 13
Signed
51 (52)
18
2 (3)
1
5 (0)
3
0 (0)
0
Sheff Utd
10 Aug, 12
30 Jan, 13
Signed
28 (0)
11
4 (0)
2
0 (1)
1
0 (0)
0
Aberdeen
12 Jan, 11
31 May, 11
Loan
10 (5)
2
1 (2)
0
0 (0)
0
0 (0)
0
Motherwell
01 Aug, 10
11 Jan, 11
Loan
15 (3)
10
0 (0)
0
2 (0)
0
0 (0)
0
Oldham
01 Jul, 09
31 May, 10
Loan
6 (6)
1
0 (0)
0
0 (0)
0
1 (0)
0
Blackpool
03 Mar, 09
25 May, 09
Loan
2 (3)
1
0 (0)
0
0 (0)
0
0 (0)
0
Blackburn
12 Jan, 09
10 Aug, 12
Signed
0 (1)
0
0 (0)
0
2 (0)
0
0 (0)
0
Macclesfield
23 Dec, 06
12 Jan, 09
Trainee
1 (11)
1
0 (0)
0
0 (0)
0
0 (0)
0
Totals
£0
113 (81)
44
7 (5)
3
9 (1)
4
1 (0)
0
Goals per Game
0.22
0.25
n/a
0