Is the cup half empty or half full in the chase toward the Premiership automatic promotion places?
I would say we are in the later, you have to give it to the Derby County team who shared a point at Carrow Road. Without a recognised striker, a referee who apparently didn't spot much of the strong arm and blatant fouling tactics of Norwich, smaller travelling support because of the crazy £40 charge for tickets by the Canaries and other major injuries to key players for Derby. They did good, or at least kept the good ship Derby County on a straightish course.
J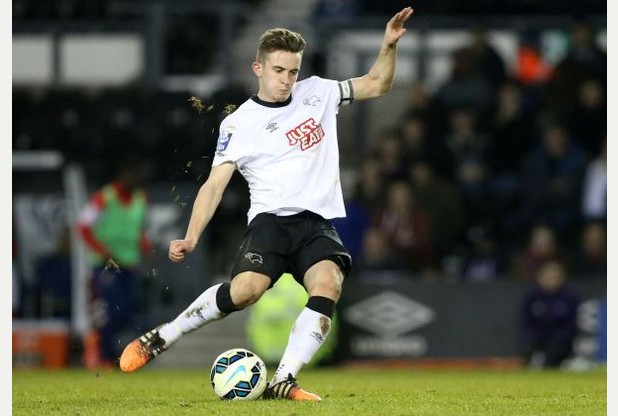 ohn Ruddy the experienced and usually very good England International goalkeeper, made an uncharacteristic mistake from a well taken corner by Rams debutant Jamie Hanson. The save appearing to be a mere formality but then spinning uncontrollably out of Ruddy's hands and into the net.
The Rams deserved to get something out of this game for their sheer determination and refusal to lie down after going a goal behind. Maybe it would have been a better day for Ram kind had the referee been able to spot a blatant and late challenge on Johnny Russell, who was in full flight. The usual treatment for such a late and deliberate act would be a yellow, or many a ref would have reached for a red card, Lee Probert did nothing except issue a free kick to the Rams!
A sickening clash of heads saw Rams debutant and goal hero Jamie Hanson with blood streaming from a wound. A quick wash with the magic sponge and a bandage to cover most of his head and it was play on as usual, so refreshing to see now days.
Johnny Russell was again in the wars late on when yet again a seemingly obvious foul went unpunished by a card. Russell had moved to head a ball when running at pace when Wes Hoolahan raised his boot above head height and caught Russell flush on the bridge of the nose. The boot split the bridge of Russell's nose and blood had to be stopped before he could resume. Again all the Rams received was a free kick, Hoolahan, who had already been booked should surely have walked but again referee Probert didn't agree!
Well it is now onwards and upwards, with a vital 'must win' game at the Ipro Stadium against Middlesbrough on Tuesday evening. Derby without a win in four games, need three points just to stay in touch with the leading clubs, following the two points dropped against Birmingham City....