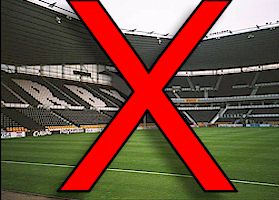 No Entry until debts are paid
Derby County have announced that the player embargo that started at the start of the season is to continue. No players will be allowed into the club either by transfer or on loan until certain criteria have been satisfied.
The Football League has insisted that the embargo will stay until Derby County have cleared outstanding debts to various clubs. The transfer of Warren Barton from Newcastle United is said to be one of the outstanding debts.
Derby County Mad also told you about the £50,000 payment now due to Scarborough for the transfer of Richard Jackson.

Christie
The Rams now are looking to sell at least one player before they can even think of bringing in new faces at Pride Park. With transfer deals involving Chris Riggott, Malcolm Christie and Danny Higginbotham appearing to be faltering Rams fans will have to hope and pray for some kind of deal in the next 10 days or struggle on with players already on the books and debts rising.
Derby County will now be looking to people willing to invest in the club but offers seem to have dried up and any interested parties have long gone.