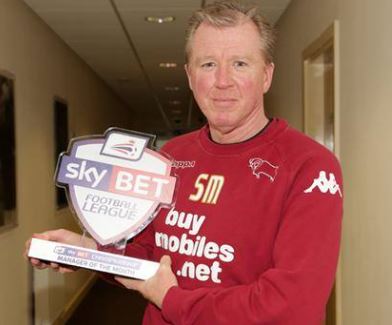 No one can deny that Steve McClaren richly deserves the award of Sky Bet Manager of the Month award.
His skill in getting the best out of a young squad inherited from former boss Nigel Clough has been outstanding and the results speak for themselves. Nineteen points out of twentyone for the month is a fantastic achievement and means the Rams are poised for an assault on a promotion place this season...
Sky bet judinging panel Chairman Alan Curbishley also commented on McClaren's Impressive return to the Rams, saying, "To secure 19 points in one month is an extremely notable feat".
Craig Bryson, the driving force in midfield for the Rams run of success, just missed out on making it a Derby County one-two after missing out on Sky bet player of the month, missing out to Danny Drinkwater of Leicester City, ironically who the Rams face tonight in Championship action. If Craig is fit enough to return to the Rams squad following injury, maybe he can prove the panel was wrong.