A very well supported competition for the Know the score Published "Match of my life-Derby County" signed book has been won by a Rams fan from Liverpool.
Hard to believe that a footballing City such as Liverpool has Rams fans but yes, Danny Thompson is a Ram in amongst the Reds and Toffee's.
The draw of all the many correct answers from fans as far away as Norway and Australia was conducted this evening at Derby County Mad HQ and Danny's book will be winging its way North tomorrow morning.
A big thank-you for all those taking part and don't forget you can get a copy of this very good book from Waterstones of st Peters street Derby, or from many leading book shops. Alternatively buy direct from the
Know the Score website
, just click on the highlighted link.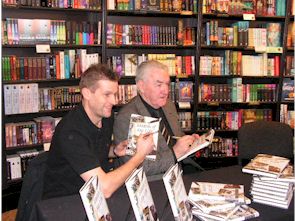 Dave Mackay and Phil Gee sign the new Derby County Book