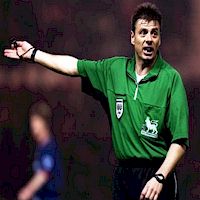 Halsey would not change his mind

Francois Grenet's
bid to escape punishment after his sending off at Villa Park on January 12th has been unsuccesful.
Mark Halsey the official on the day considered Grenets challenge to be worthy of a straight red card.
Mr Halsey did not change his opinion at a review of the incident held earlier this week and the FA panel decided to uphold the referees decision.
This means that Grenet will miss three matches starting this coming Tuesday (29th Jan) when the Rams play Charlton away.