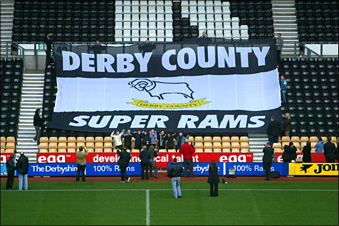 The new Giant flag will be surfed for the first time this weekend
Fancy a bit of surfing? Well you can enjoy it in land locked Derbyshire now as the new Giant Derby County Flag is to be surfed before the game on Saturday against Crystal Palace.
The Huge 40ft by 30ft flag will be operated by a flag team and surfed over the heads of supporters. The idea was taken from the huge flags seen at the Ted McMinn testimonial game played last summer between Derby County and Glasgow Rangers. The Rangers fans came down in their thousands and added to a superb atmosphere at Pride Park and around the City with their flags.

replica pin badges helped to finance the huge surfing flag
The flag represents what fans can achieve when they band together to make things happen and the huge £1,800 cost has been raised by the supporters alone, without corporate funding. Most of the finance has been raised by the selling of lapel badges by the supporters groups, these were a miniature representation of the giant flag and may well become highly collectable in their own right.
We all look forward to seeing the flag proudly surfing the Derby County Crowd this weekend, just don't forget your Bermuda's and the sun tan lotion and "we'll all go surfin down pride park way"

Please note Derby County have issued the following information on safe surfing

* Don't grip or pull the flag for long - it is strong but not indestructible!

* Push or guide it with your hands in the direction that the flag team and stewards are indicating, so that it can move across or up and down the stands smoothly.

* Don't obstruct the stewards or volunteers who are making sure that the flag makes progress and that any other crowd safety or movement requirements are enabled.