I missed the Sheffield Wednesday game because I was on holiday down in Somerset, staying in a friend's static caravan near St. Audries and West Quantoxhead. A beautiful part of the country, right on the coast.
When I heard the result from Pride Park, a fantastic 3-0 victory, I was delighted. Delighted because we'd won, delighted because we'd picked up three valuable points, delighted because we'd pulled ourselves away from the relegation zone.
In truth, I was absolutely delighted because I hadn't expected it in a million years. As I was leaving for Somerset early last Thursday morning, I was still trying my best to forget the embarrassing 6-1 defeat at Cardiff City the previous evening. Added to that was the fact that we hadn't been able to select our full compliment of substitutes because of a crippling injury list, a crippling injury list that had grown even longer against Cardiff with Dean Leacock added to the list. By my reckoning, we were going to have 14 players injured going into the Sheffield Wednesday game.
So the players, manager, and coaching staff deserve a huge amount of credit for picking themselves up, dusting themselves down, and going about their business to get the job done.
I've seen the highlights since and the build-up play for the first two goals was brilliant. Paul Dickov showed his experience, manoeuvring himself into position to control a looping ball into the area, whilst at the same time cleverly manoeuvring the defender out of position, before coolly setting up Lee Croft for the opening goal.
For the second goal, Croft does fantastically well and shows his pace on the break, but just look who's bursting a gut to keep up with him, receive the pass, and score goal number two. None other than Jay McEveley.
From what I've heard, Rob Hulse deserved to take and score the penalty for his effort and workrate throughout the game, but he had to wrestle the ball out of the hands of Robbie Savage and Gary Teale so that he could score the third goal.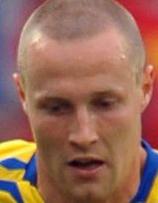 Fredrik Stoor had impressive home debut

Looking at the highlights though, Sheffield Wednesday wasted a couple of good chances at 1-0 but it would be unfair on the Rams to split hairs on what was a comfortable victory overall. Everybody I've spoken to who saw the game say that every one of the Derby players played really well and that the Rams deserved the win. Fredrik Stoor, in particular, appears to have made an impressive home debut.

Fortunately there's an international break now which allows a couple of weeks breathing space for the injured players to be wrapped in cotton wool and nursed further along the road to recovery.

Let's just hope that the uninjured players (and there can't be more than a handful of them) who are going on the team bonding trip to Portugual survive it without picking up any injuries.

Stuart Hughes...